Olympic Channel builds momentum ahead of 2020 Games in Tokyo
Key to the effort is figuring out content and prioritising markets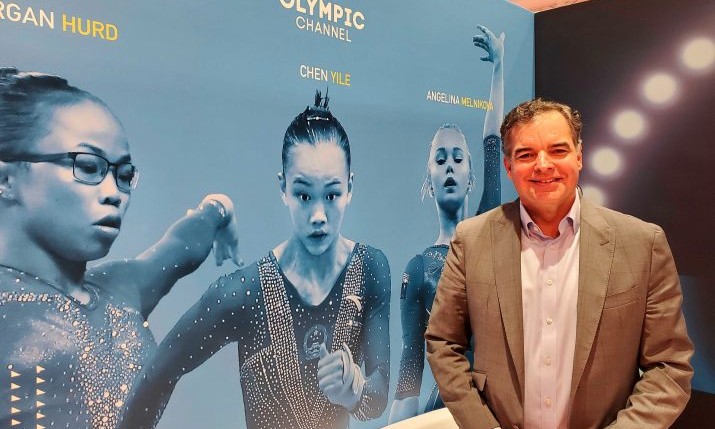 It was a little over three years ago that the Olympic Channel was launched at the conclusion of the 2016 Rio de Janeiro Olympics. Much has been learned since that time about how to approach programming, and the 2020 Tokyo Games will mark the first Summer Games where the Olympic Channel and its staff will make a difference.
Looking back on the past three years, Mark Parkman (pictured, above), general manager of the Olympic Channel, says the most important thing now compared with when it launched is that everyone has data about what kind of content works.
"We knew which sports were popular when we launched," he says, "but a lot of it was, 'This sounds good and feels good so let's do it.' In the past eight or nine months, we have paid much more attention to the data, and we are more sophisticated. And our content teams are being advised by our data teams about what kind of content or article causes a spike. That, for sure, has been something we are now taking advantage of."
The network has also been able to figure out which markets are priorities, and, according to Parkman, Japan, the US, China, and India top the list.
"Japan is now our number-one market," he notes, "and it's because we have localised content, localised distribution, and we are focusing on Japanese athletes and stories. It has paid off. [It's] the same thing in India, which hasn't been a strong Olympic country. But they have some great athletes, and we're doing localised content and growing those fanbases."
"In the past eight or nine months, we have paid much more attention to the data, and we are more sophisticated. And our content teams are being advised by our data teams about what kind of content or article causes a spike."
The planning for the Tokyo Games, which begin on July 24, started about a year ago, and the programming over the past four or five months is a result of those efforts.
"We focused heavily on some of the bigger world championships, like swimming, gymnastics, and track and field," says Parkman. "And, across all of the sports, we have been promoting the championships and telling those stories."
The Olympic Channel team has also been onsite at some of the championships and has been live blogging in an effort to enhance the linear channel and digital app with a social media presence that draws more attention to the events.
"Even without some of the live-streaming rights," he adds, "we found out we could generate an audience by doing articles and social posting that promoted the original content we had done."
The key for all those efforts, says Parkman, is a content team that knows how to focus on interesting stories and takes advantage of the linear-channel format as well as the website, app, and even podcasts.
"We have had some incredible podcast discussions," he notes, "and that is all about our editorial-content team led by Mary Byrne, who came on board right before PyeongChang. She has done a phenomenal job of making sure we tell the stories people want to know but also the stories people need to know. And we've been successful."
Topping the list of originals is All Around," a series that debuted in August with monthly episodes that follow three women gymnasts on their Olympic qualifying journey.
"It's a new genre for us," notes Parkman. "It has performed exceptionally well and is our best-performing original series premiere to date. And we have other original series coming out that are all focused on Tokyo."
The idea for All Around began within the Olympic Channel staff and was pitched to outside production companies. UK-based Noah Media Group won the project, thanks to some similar work it had done previously. Parkman says the company jumped at the opportunity.
"When you think about the amount of sports that we have covered in the last three years and then 70 original series, the volume we are doing is something no one has been able to match" – Mark Parkman
The next step was getting national gymnastic federations, coaches, and the athletes themselves on board.
"We wanted to have the right mix of geo-representation," Parkman observes. "The feedback from the gymnasts is phenomenal. They like being part of it; they are contributing content on their own social platforms to promote it. It has been a very good experience."
He adds that the athletes' comfort level with social media and their ability to understand how to make the most of the platforms is making a difference. They are the best ambassadors for Olympic Channel, and, when they buy in, the network sees an uptick in engagement. And, when someone like Lebron James likes a social post from the channel, as recently happened on Twitter, it can make a really big difference.
"Angelina [Melnikova of Russia] is a star on Instagram, and she is creating video and photo content all day long. Morgan [Hurd of the US] is as well," says Parkman. "It's amazing what one can do now with the technology as you don't need to have a sophisticated camera crew. And the younger generation is fine with the selfie-shot video that is bouncing all around."
Exponential growth of the digital team
When the Games begin, Olympic Channel will shift its role depending on the Olympic-rights situation in a given part of the world. In Russia and India, Olympic Channel will be able to show 150 minutes of highlights per day.
"We will focus a lot on what we do in those markets and we will also have 10 minutes a day of highlights in Latin America and Africa," he says. "In the rest of the world we will do what we can to promote people as we want our broadcast partners to have an excellent games and record-breaking audiences. We will also do a live show across our platforms and social from outside the venues and across Tokyo. But we will just continue to build our storytelling so that when the Games are over people will want to come back and learn more about the athletes."
Behind all the great stories is a technical-operations team led by Jorge de la Nuez, head of technical operations, Olympic Channel. Within Olympic Channel's Madrid headquarters, which it shares with OBS, is a playout area staffed by 20 and delivers content to all the various platforms. It handles everything from ensuring that content is in the right format to managing geoblocking, multiple language tracks (currently 11 with Hindi expected to be added by the end of the year), voiceovers, and more.
"The digital team has grown exponentially from 2017," says de la Nuez. "We've expanded our monitoring, quality control for the distribution platforms, as well as localisation."
A more robust commissioned-content team is also making sure that incoming content from independent production companies best meets the technical specifications.
The technical team was also the first IOC-related division to make use of Alibaba cloud services, a deal announced prior to the 2018 Winter Olympics.
"It has worked very well," says de la Nuez, "and there has been a lot of effort in helping us make sure the new applications run in the Alibaba stack as all of our digital, CMS, and distribution API for the web applications run on Alibaba."
And while the rest of the Olympic Channel team is thinking about the run-up to the Tokyo Games, de la Nuez is thinking about the legacy. It will be the first Olympics that will have a UHD archive, and that creates a ripple effect for a network that looks to make use of a lot of that content.
"It gives us the possibility to start editing and producing in UHD," he adds, "but we will need to figure out a whole new workflow."
The efforts, like those of the production teams on the content side, are all part of building a legacy that is unlike anything else in the industry. The Olympic Channel provides an important means of delivering Olympic content to regions of the world where there are currently no rightsholders. And it also delivers content within regions of the world where there are rightsholders. That large mission gives the team plenty of opportunities to tell stories, deliver content, and play a key role in the future of the Olympic Movement.
"I think we have built a niche that no one else has done or can do," says Parkman. "When you think about the amount of sports that we have covered in the last three years and then 70 original series, the volume we are doing is something no one has been able to match."