Olympic Channel's Mark Parkman: Early success but much to come for multiplatform service
The Olympic Channel is a little more than three months into its true existence but the efforts to get into launch mode, and now into growth mode, began well before it fired up its offering following the closing ceremony of the Rio Olympics on August 21. The digital-first, multiplatform service is designed to give Olympic sports more exposure, fill the gap of Olympic sports fans between the games, and, most importantly, ensure that younger sports fans are engaged with Olympic sports both as a participant and a fan. Mark Parkman, general manager of the Olympic Channel, recently sat down with SVG Co-Executive Director Ken Kerschbaumer to discuss the launch of the channel, what it means to the Olympic movement, and what It means to the industry at large. This is Part One of that conversation.
SVG Europe: The Olympic Channel is now a couple of months old. From your perspective how has the Olympic Channel launch gone so far?
Parkman: Good, especially when you consider where we came from. It was only last July when we had our first employee who is our head of programming. And then we fast tracked last autumn, with meetings with International Sports Federations about ways that we could partner with them. Then in January, we really started our content creation effort as we had zero pieces of content. Also at that time some of our office building was functional so we added some temporary suites. The building became fully functional in April when we moved into these offices. But even before that, beginning in January, we were creating content and we created almost 2,000 pieces of content for our launch in August.
SVG Europe: What is the content strategy?
Parkman: One of the interesting thing about the Olympic Channel is that we don't have media rights to the Olympic Games. So what we had to do was to fashion a content plan based upon what would have relevance after the Games. And even then in certain territories, like the U.S. for example, we had some restrictions as to what we could and couldn't do based upon rights agreements.
So we went from zero content to around 3,000 pieces of content from January until the end of August. And that was pretty monumental, considering that we were going as fast as we could. The good news is that we had all the archives from previous Games so we were creating evergreen-type content.
One of the concerns was if we could create enough content in such a short amount of time to make it a viable content proposition. And that I think we achieved this, including the groundwork with all the IFs to get them to come to agreements on events that we could stream live. We have announced more than 35 live events with about 12 of the federations, and some of those federations have even come back to us and said, 'Can you do more?' So that's a very positive sign.
SVG Europe: Are you only working with federations?
Parkman: We've had other events that are Olympic sports related that have approached us. The Sydney Marathon for example. They cold called us and said 'Hey, would you guys be interested in putting the Sydney Marathon on your platform?' We said, 'absolutely.' We also have some of the federations on future Olympic programs, like surfing, which gave us their World Junior Championships and they're talking to us about other events as well.
So the federations themselves are seeing that the channel presents an interesting ancillary distribution platform to enhance what they're already doing.
One of the bigger events we did was the ice hockey qualification tournament for PyeongChang 2018. This is something that we worked on for many weeks and months with the Ice Hockey Federation. The final three spots of the qualifying tournament are determined through this round robin event.
We asked ourselves, 'what can we do for this event to make it something that would become a must see every four years?' So we live streamed it worldwide with the exception of the competing countries, and then we did a heavy social media promotion. We were also on site in the three locations each with dedicated crews. It was a huge success for the Ice Hockey Federation.
SVG Europe: What has been the reaction from Olympic sports fans so far?
Parkman: Remember we didn't announce we were going to launch the channel during the Closing Ceremony of the Rio Games until July 27. That is also when we made our social media handles live on Facebook, Twitter, and Instagram. In addition, the Olympic YouTube channel is now rebranded as the Olympic Channel which we took over on July 27 as well. So that is a little more than three months ago and we've gone from zero to more than 2 million followers, more than one billion impressions, and almost 300 million video views just on social media during that time.
SVG Europe: Well let's start with one of the common misconceptions out there. It's called the Olympic Channel. So people in the industry are asking 'where can I find the Olympic Channel, is it going to on Sky or DirecTV', etc. etc. Can you explain the name Olympic Channel and how it is a channel and how it isn't a channel so that people can understand what exactly it is?
Parkman: That's a tricky question. Yes, we're called the Olympic Channel but we're not a traditional TV channel. We're a platform that is across as many devices and means of distribution that we can be. Be it linear, which are coming, via our website, via the apps, or via social media. So it's an Olympic Channel in a multi-platform ecosystem, and we're aiming to get as much of our brand and content out there to viewers wherever they may be.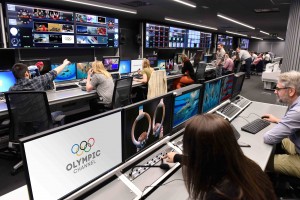 Linear is still very relevant throughout the world. In some places it's very relevant and other places it's diminishing a bit. But digital platforms and channels are exploding all over the place, and then you have social media where our core demographic is consuming most of their content. In today's world, we have to go to where they are. You've heard this many times but it's not the traditional lean back experience where you get the clicker and you find what you want. You have to go to where people are, and social media, in particular, is where our demographic is consuming a lot of content.
SVG Europe: You mention your demographics. What is your sweet spot?
Parkman: We're targeting millennials, the 14-34 year olds, because that demographic is what we're hoping to hit with Olympic content to ensure that we build the Olympic fan base for the next 25 years. So whatever platform people are consuming content, whether linear, OTT, mobile, the Olympics will be there. We want millennials to become fans and follow us on whatever platform they choose. So the 'channel' itself is maybe a misnomer but it's a way to communicate that there are multiple channels that we're distributing our content on.
SVG Europe: What do you see as the relationship between the existing online presence of a Federation, the ones who don't have an online presence, and yourselves? How is everyone working together?
Parkman: Well, that's one of the things that we've spent a lot of time on because the federations are the ones who have the rights to all their events on a yearly basis. We've spent a lot of time discussing the proposition of what we had to offer to each federation. We've made it clear from the beginning that we aren't here to upset any of their current distribution streams, revenue streams, or sponsorship models. What we are offering them is an ancillary platform to distribute their content, be it live events, news, highlights, or social media, or content that the channel generates.
When we explained how we wanted to help them grow their sport and that we could do it however they wanted to it became a pretty easy sales proposition. But with each federation it's different because some federations may have worldwide distribution of their content, some have regional distribution, some have rights in specific countries, and some may have their own platform that they do on a global scale but don't have partnerships with traditional media entities. We've said you tell us what content we can have, where we can have it, when we can have it, and we'll help distribute what it is you're offering to us.
SVG Europe: So they can basically keep whatever they want to keep and there's no twisting of arms.
Parkman: Correct. We were telling them you're part of the Olympic Movement, we're the new platform of the Olympic Movement, we want to help you grow your sport, so we're not going to come and offer you a rights fee. We're also not asking you to let us compete with your rights holders. You tell us if you have to geo-block it in China and we can geo-block it in China. If you want it on delay in the U.S., fine, we can do it on delay. So we are able to work around all of their current agreements.
SVG Europe: Do you have an example of how that would work?
Parkman: For the ice hockey event we were geo-blocked in the competing countries, and only if the competing country had a broadcaster that had purchased the rights. So we were probably in 180 countries with the ice hockey qualifiers because there wasn't an overarching global distribution deal.
FIBA is one federation that does have global distribution. And they told us they have worldwide distribution and didn't see much of a synergistic way to work together. But the channel can go their events and help promote them — we don't have to just have live events. And then we mentioned their 3×3 basketball tournaments — an up-and-coming sport, particularly with our demographic. It's young, it's urban, it's quick, and it's fast. So we asked what can we do with 3×3? And we were able to stream the World Championships from China and World Tour Final from Abu Dhabi.
On social media we were able to do a FIBA trick shot piece that has gotten more than a million views. So that kind of social media presence is also something we can use through our promotions to increase the reach of these sports.
So the federations can use the Olympic Channel to try out a new event, get better distribution, get more value for sponsors. If we can stream skiing in Africa and the next year we can't stream in Africa because the IF now has a rights holder, then we're going to consider ourselves successful because we've helped the federation grow their sport and increase their revenue opportunities.