Outline's Stadia Series loudspeakers selected for World Cup venue Ekaterinburg Arena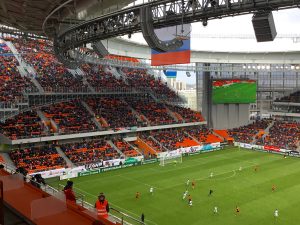 The 64 matches that comprise the 2018 World Cup are to be hosted across a dozen stadia up to 1,800 miles apart, from the Baltic Coast all the way to the Ural mountains in the east. One of the venues is the Ekaterinburg Stadium, originally opened in 1957 then subject to a major redevelopment completed in 2011.
To meet FIFA's specifications it will feature some innovative temporary space for fans, with extra covered seating on the outside of the stadium perimeter behind both goals, taking its capacity up to just over 35,000.
In preparation for the four World Cup matches scheduled to be played there and also for the use of Russian Premier League side Ural Ekaterinburg, whose home ground it is, a huge Outline sound system has been installed based around their new Stadia series of products designed specifically for this application.
A total of 223 Outline loudspeaker enclosures have been deployed throughout the stadium to provide seamless coverage and superlative intelligibility to every seat in the house. The Stadia series includes three different models (the 100-10, 100-20 and 100-30, offering a choice of vertical dispersion characteristics) and all three models feature in a design that uses a total of 121 Stadia modules throughout the stadium.
They are joined by 48 Outline ST SUB low-frequency modules, the dedicated LF companion in the Stadia range, while a further 54 Vegas 24 ultra-compact enclosures are used to cover the VIP and guest zones. More than 300 individual channels of Outline amplification power the huge system with a combined total power of over one million watts.
CROC Ltd. were appointed as the general contractor for the development of the stadium infrastructure, subsequently creating and implementing a complete suite of facilities including low-current designs, ticket entry and physical security systems, telecommunications, broadcast, multimedia, sound reinforcement and engineering systems monitoring.
At the invitation of Andrey Korogodin, director of corporate customers department of CROC, the specialists of the Sofit Light Company (Outline's distributor in the Russian Federation) worked closely with the lead contractor in the design of the sound reinforcement system.
Alexander Klinushkin, Sofit Light's senior engineer, comments: "We received a very positive feedback on the job done. When the system was turned on for the first time, using only the factory presets, the result was already intelligible and musical. We made some fine tuning (that was in any case foreseen during the system design), the system works with a lot of headroom and it is necessary to keep it in mind when working with the audience."
Also a key venue in the tournament, the Kazan Arena will be using their Outline system which was installed in 2013. A combination of Outline Spectra II and Tripla II (using 24 and 48 units respectively) are powered by 31 Outline T Nine amplifiers, all connected to five Outline Genius M412 matrices.