OZ Sports and the Icelandic Football Association choose Newsbridge for Media Hub and Media Marketplace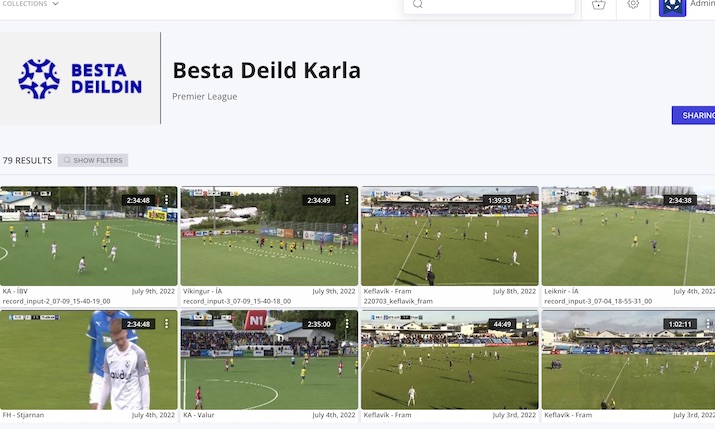 Founded in 1947, The Football Association of Iceland (KSÍ) is the governing body of football within the country, with its headquarters based at the national stadium Laugardalsvöllur, in the capital Reykjavík. KSÍ oversees all football competitions in Iceland, men's and women's, from Icelandic Top Football (ÍTF) – a union of all clubs in the top two divisions – to youth competitions. KSÍ has been affiliated with FIFA since 1947 and with UEFA since 1953.
Football is ingrained in Iceland's sporting culture – registered players account for approximately 7.3% of the country's 376,000-strong population. With media rights ownership in hand for the very first time, KSÍ and ÍTF wanted to be able to record all league matches – up to eight at once – and store them in a central, easily accessible location.
ÍTF was also looking for a way to clip and make game highlights available to its 18 teams. The ideal platform would let ÍTF both distribute and potentially monetise content assets to help achieve global growth of Icelandic football and unlock new revenue streams.
KSÍ and ÍTF chose Newsbridge's Cloud Media Hub to ingest multiple match live streams, which are recorded by Icelandic sports technology firm OZ Sports.
Multimodal AI indexing technology, which automatically detects people, objects, logos, context and speech, is applied for transcription and Icelandic-to-English translation. Player information and game stats from Genius Sports are automatically synced with the media files thanks to a customised integration. Facial recognition and OCR (optical character recognition) can be used in the Media Hub to automatically cut match and sponsor highlights. The Newsbridge mobile app allows users to quickly access and post key game moments on the go to share with supporters.
OZ Sports can directly ingest up to 10 simultaneous SRT streams to the Newsbridge Media Hub. Genius Sports data is synched with the media files which are also enriched with metadata through multimodal AI indexing. Fifty ÍTF users from departments including marketing and digital can search, clip and collect the video assets they need.
Newsbridge's Media Marketplace gives ÍTF the option to turn football match minutes into revenue. Content buyers, sponsors and partners can be invited to the platform to browse, clip and collect, and arrange payment for match video highlights.
Media assets are available in hot storage for one month before moving to cold storage for cost optimisation, preserving Iceland's games in a secure cloud archive.
Birgir Jóhannsson, CEO of Icelandic Top Football, commented: "Newsbridge is the versatile cloud media hub solution that we were looking for. Its live ingest capabilities and automatic indexing opens enormous opportunities for us to supercharge our workflows and shine a spotlight on our fantastic national competition. We're also excited by the ways in which we can use Newsbridge's Media Marketplace to potentially drive commercial revenue to benefit the entire Icelandic football ecosystem."
Gudjon Gudjonsson, CEO of OZ Sports, said: "Adding Newsbrige to our group of strong technology partners has helped OZ service sports federations and clubs around the world, with both production and now a powerful media management platform, from cataloguing full matches, highlights, to even VAR training clips. We look forward to building our future in media management with Newsbrige."
Frederic Petitpont, Newsbridge co-founder & CTO, said: "KSÍ and ÍTF were just 10 days from the start of the season when they set us the challenge of establishing their AI-powered Media Hub with up to 10 live feeds and archive capabilities. I'm pleased to say the Newsbridge team delivered. We're proud to be empowering Icelandic football to centralise, auto-index and capitalise on their media assets with our Cloud Media Hub with AI technology, and our Media Marketplace."