Partitioned TV Skyline Ü8UHD OB delivers live music evening for SWR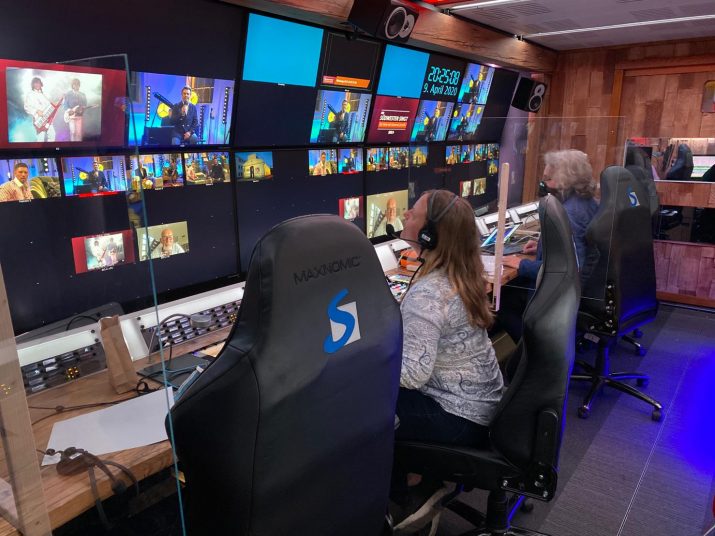 There are no live sports events taking place in Germany but the OB team at TV Skyline is keeping trucks rolling with various music productions, an improvised coronavirus-inspired satirical weekly show for ZDF, and live televised church services at the weekends.
TV Skyline joint CEO Robert Kis is finding a new atmosphere, a feeling of togetherness and solidarity, where television teams have managed to come together for any live productions in Germany during the coronavirus crisis.
Last week the team took flagship Ü8UHD on the road for a live music special, with transparent plexiglass screens separating workspaces and a rigorous cleaning and disinfecting routine in place to ensure every working surface on the truck was sanitised for the crew's safety.
"This was a music show in Germany which was broadcast live on SWR. Our client was Riverside Entertainment. There was a host and four musicians, all separated from each other," said Kis. "Viewers could make requests on social media or on the phone and they sang the requested song. This show was a special edition, not a regular show.
"We started on 8 April with rigging and rehearsing and the show was on Thursday 9 April. This was a two and a half hour show – there were a lot of requests for songs and there was also quite a good mood among the guys in front of the camera.
"Suddenly, a live production becomes something very valuable and very special. Maybe it sounds a bit weird, but a feeling of togetherness developed on-site. It's really hard to describe."
"Something weird happened: it was like everyone on-site felt something really special – not normal – was happening. Things that used to be normal, like live production, that was all in a day's work. Suddenly, a live production becomes something very valuable and very special. Maybe it sounds a bit weird, but a feeling of togetherness developed on-site. It's really hard to describe.
"And there were not very many cameras – it was not really a challenge technically. But all the preparatory meetings and telephone calls in advance become really important as there was such a great uncertainty on all sides in the current situation. We had just five operator cameras; not really a big production and not really anything to talk about," he said.
"We are quite fortunate to have big trucks. For this show we used the complete OB8 truck with all rooms – our trucks have a lot of space. We outsourced some workstations with monitors and intercom outside the truck, in separate rooms, for producers and visitors.
"We also built, on our own, new transparent partitions between the workstations. This is our own development – nobody can buy this at the moment. We wanted something we could easily assemble and de-assemble; the partitions fit in any of our trucks and you can place them anywhere," said Kis. "It was very important for us that the team members did not have the feeling that they were isolated. They could still communicate with each other and could see what was happening everywhere in the OB."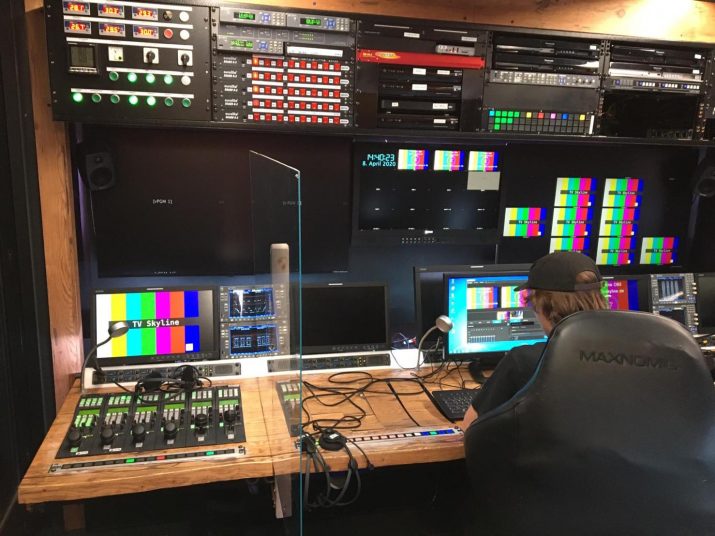 Each room in the vehicle also has its own low-pressure air conditioning system, which does not cause air turbulence. "This is an important element that nobody has talked about so far. We have not created all our trucks with this kind of air conditioning because of a virus coming in 2020. All our new big trucks since 2014 have had separate this air conditioning.
"We've had a lot of feedback from clients over the years that they feel very comfortable in our OBs. Normally in an OB the first thing everyone does is put on a scarf and a big jacket. It's so cold because of the technical areas. But we try to create trucks where people feel comfortable to be and to work with each other – and they want to stay longer."
All workplaces and work equipment in the truck were disinfected repeatedly during the music show production. "We disinfected every working space – everything you can touch while you work. Also the headsets for the camera guys: everything we could do, we think we did."
New production spirit and new ways of working for OBs
"We also have some productions with live streaming," said Kis. "There's a new comedy format on ZDF called 'Homies' with two young comedians staying at home, one in Bremen and one in Berlin. We travel there with a small staff and small kit and all the signals come here to our home base in Mainz, and hundreds of fans are involved via the internet. This is a live production, a weekly comedy show about what's happening at the moment with the corona crisis.
"At the moment, live production only works if everyone takes better care of each other. Two weeks ago we made the final of German Idol, a live show in Ultra HD with OB8. All the experiences of the last few weeks, which also include broadcasting church services, we have the feeling that everyone – whether in front or behind the camera, client, customer, supplier – is taking better care of each other.
"We have to change the 'we always did it this way' mentality: now we have to re-think all the processes as new. But this way of working is going to have to be the 'new normal' for a considerable period, as we try to restart live sports production.
"Yes I think we will have to change our working routines for a long period – and maybe not all the new routines are bad. Maybe we will keep some of them, for example the partitions between the individual workstations.
"We have to change the 'we always did it this way' mentality: now we have to re-think all the processes as new"
"Maybe that's something we all wish to preserve, to keep, for the future. We all do what we love, which is to work on live television: you must be very crazy to work in the television industry! But we all love what we do and hopefully we can work on very soon and take care of each other. It's a lot of fun and the result is great because everybody loves what they do," he said.
The biggest question in German sports right now is when and how the Bundesliga season would restart. Discussions about whether it can resume will not now be considered until at least the next round of government talks, which will take place on April 30. Meanwhile German political leaders have confirmed that big events will remain forbidden until 31 August. This means football fans will not be allowed enter Bundesliga stadiums until 1 September at the earliest.
Robert Kis says TV Skyline will be ready to resume its role in Bundesliga coverage, whenever games resume. "We are quite relaxed because we are prepared, with modern trucks and big trucks, where we will have partitions between working spaces. I think they plan to deliver the type of signal we are all used to: I believe the aim of the Bundesliga will not be to show 'some kind of football', but a Bundesliga that all the spectators are used to seeing."