PDC delivers record-breaking World Darts from Ally Pally to digital platforms
Ahead of the recent William Hill PDC World Darts Championship, the Professional Darts Corporation (PDC) partnered with Grabyo to deliver an agile content proposition in real-time across its digital channels.
With the closure of SnappyTV, which is now part of Twitter's Media Studio, PDC needed the ability to capture every twist and turn from the Alexandra Palace oche and distribute it to darts fans globally. Using Grabyo's cloud video platform, PDC's digital team was able to deliver content to fans in real-time, across multiple digital and social channels.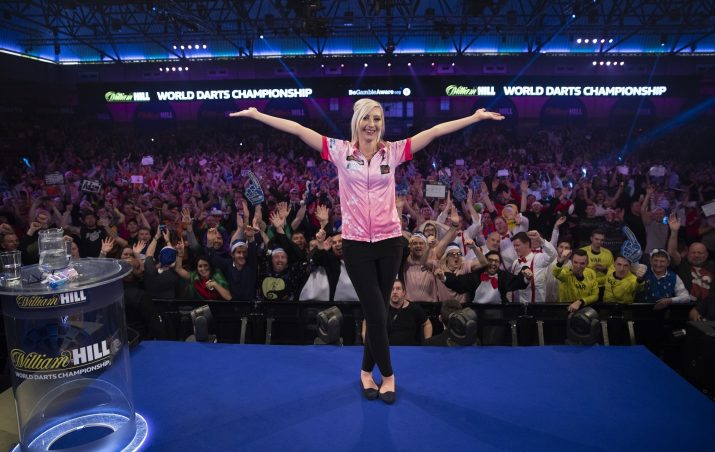 Audiences were captivated as Fallon Sherrock (pictured) became the first woman to win a match at a World Championship in round one – and her third-round match against Chris Dobey drew the biggest TV audience ever seen for an afternoon session of the event.
Using Grabyo's browser-based tools, the PDC was able to react and capture Sherrock's story all the way to her third-round defeat.
Fans flocked to PDC's Twitter and Facebook channels to watch highlights of each match. PDC's most popular clip from across the World Championship – viewed by six million people — was the moment Sherrock won the fourth set against Ted Evetts in her first match, setting up her historic win.
Grabyo's platform enabled PDC to be first-to-market with content from the championships, ensuring PDC's own channels were the primary destination for darts fans following the action, which culminated in victory for colorful Peter 'Snakebite' Wright on New Year's Day.
The PDC will continue to use Grabyo throughout the 2020 season covering major events such as its Premier League, World Series, and other major TV tournaments.
Lewis Wood-Thompson, the PDC's head of digital, said: "The PDC World Championship is always full of surprising and exciting moments. It's crucial to us that darts fans are able to follow the action and be involved with the sport wherever they are, however they want. Grabyo's platform enabled us to work quickly, making sure every fan had access to each match and was able to be a part of the darts community."
PDC used Grabyo's Studio platform to create, edit and distribute clips in moments. Content producers only needed a laptop and internet connection to deliver clips to mobile, social and OTT platforms. PDC shared just under 1000 clips using Grabyo, achieving over 45M views.