PGA Championship: CBS Sports debuts motion capture and aerial tracing at Bethpage Black
With the shift of the PGA Championship to May this year, CBS Sports is rolling out its largest arsenal of production technology to date to cover golf's second major of 2019. Additions to CBS Sports' production complement at the Bethpage Black Course in Farmingdale, NY, include SIMI motion-capture technology of player tee shots and Toptracer aerial tracing technology from the blimp camera. With the move to May, CBS Sports becomes the first network to broadcast the first two majors of the year.
"We're excited from a production standpoint, a technological standpoint, from a calendarisation standpoint," said CBS Sports chairman Sean McManus. "I think everything is pointed towards us having a really, really good PGA Championship."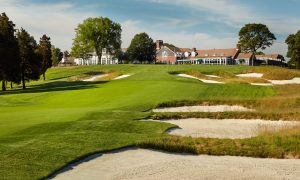 In addition to the debut of motion-capture and aerial tracing technologies, CBS Sports is rolling out 4D Replay at No. 15, Hawk-Eye Green Technology, Toptracer at all 18 tee boxes, two Toptracer RF systems, ARL Virtual Eye, Smartcart, ultra-high-speed cameras for SwingVision, aerial drone coverage, and full-course wind metering. In addition, CBS Sports is producing 4K HDR coverage from the final three holes.
In total, CBS is deploying nearly 200 cameras and 175 microphones covering 41 miles of multistrand fibre, which equals 492 miles of actual fibre connectivity at Bethpage State Park.
Having been deployed for the first time ever on a US network at last month's Masters Tournament in Augusta, GA, SIMI motion-capture technology returns for CBS Sports' PGA Championship coverage. Using eight high-end industrial camera systems on the Hole 11 tee box, the technology highlights player swings and display full-body skeleton analytics. Swing analysis covers hip and shoulder rotation, arm- and knee-contortion angles, and the speed of the golf club both before and after impact.
"It's just another way to break down a golfer's swing, what they're working on, how they can get better," explained Harold Bryant, executive producer/SVP, production, CBS Sports. "You can compare different swing speeds from the top of the swing to when they actually hit the ball. It's another tool in our production arsenal that can help enhance our coverage."
For the first time on any golf broadcast, CBS is featuring Toptracer over live video from the blimp. Combining blimp footage with Virtual Eye Hero technology and Toptracer, CBS can provide complete shot trajectory for the players from tee to green.
"The aerial tracing is an excellent tool for us," said Bryant. "It helps tell the story of how these golfers can manipulate their drives or any of their shots. It's going to be incredible to see [that angle] from a blimp tracing from the tee box."
McManus added, "We've all seen the tracing that is done from the ground, but it's never been done live from a blimp. So I think that's going to add an entirely new perspective to our coverage of the golf tournament."
In addition to the aerial blimp shot, CBS Sports has deployed Toptracer shot-tracking systems on all 18 holes. Toptracer uses 3D radar tracking to provide the viewer with a true sense of distance, height, and curvature, as well as apex, ball speed, distance, and curve area of shots. Toptracer is also kitting out two RF mini cameras to provide ball-tracking graphics and statistics on a player's second shot from the fairway anywhere on the course.
ARL Virtual Eye technology returns this year with increased coverage on all holes (except the par 3s). Virtual Eye uses Toptracer ball-tracing capabilities on tee shots within a 3D Hole model while simultaneously showing the golfer hitting shots from the tee. Virtual flyover animations also return, giving a second-shot perspective once the ball comes to rest, including GolfTrax information providing key statistical information for both individual players and holes.
4K HDR returns for second chapter at PGA Championship
For the second consecutive year, CBS Sports is producing 4K HDR coverage from the PGA Championship (CBS produced a 4K HDR test feed in 2017 and has produced 4K SDR coverage at selected holes since 2016). Bethpage State Park's Holes 16, 17, and 18 are being captured in 4K HDR throughout all four rounds of the tournament.
Last year's coverage, which was distributed to AT&T DirecTV subscribers, was produced in 4K HDR and downconverted to HD SDR to serve DirecTV's Mosaic coverage of the last three holes. CBS Sports and DirecTV also teamed up to produce and distribute 4K HDR coverage from The Masters (at Augusta National's Amen Corner) for the past two years.
CBS Sports also brings back 4D Replay for the pivotal Hole 15 tee box at Bethpage Black. Having deployed it for the first time on a US golf broadcast at last year's PGA Championship at Bellerive, CBS is doubling the number of cameras this year to 90, allowing an even better video display of the swing to showcase a 180-degree look around the player.
Hawk-Eye Green Technology will once again be featured prominently in CBS Sports' coverage, including the Putt Predictor and undulation grid. Putt Predictor demonstrates the extreme differences in the line that a putt can travel and still go in, based on weight of the ball strike.
It provides a shaded area between the line of a hard putt to the back of the hole and a soft-putt line that has the most movement. If a putt leaves the shaded area between the two lines, the viewer knows that it will not drop. In addition, the graphical undulation grid is overlaid on a green along with moving arrows to highlight the undulations of a green.
Introduced at a PGA Championship two years ago, Smartcart returns to the PGA Championship this week. The 72-inch mobile screen, mounted on a custom-fitted golf cart for broadcast applications, is used to analyse and telestrate such data as golf swings and shots, difficulty of holes, and scorecards, bringing a new dimension to golf coverage with compelling content from action on the course.
CBS is deploying two ultra-high-speed camera systems for SwingVision segments, which break down players' swings and demonstrate shots from various parts of the course in slow motion.
CBS Sports' aerial drone coverage captured all the elevations, undulations, and hazards of Bethpage prior to the tournament, providing viewers with a look at the "player's perspective."
"We don't just throw [technology] at it; we calculate the best way to improve the broadcast," said Bryant. "What's out there and what can we do to capture more shots or be closer to the game for the viewer? We're just trying to make it a better broadcast for the viewer.
"Each course that we go to is a different challenge and provides us a different opportunity to try some of the new enhancements and technologies. It's a big stage, and we love to try all this new technology on the biggest stage possible."