World Athletics Half Marathon Championships pivots to remote production
Production plan forced to change ten days out due to new COVID quarantine restrictions
World Feed host broadcaster World Athletics Productions and OB provider NEP Europe had to adjust their long-established on-site production plan for the World Athletics Half Marathon Championships in Poland at ten days notice due to new COVID-19 restrictions. A spike in coronavirus cases in Poland meant that ten days before the 17 October event, the British government changed its quarantine rule applying to travel from Poland.
The new mandatory 14-day quarantine restriction meant many of the largely UK-based production crew were unable to travel to Poland and so the host broadcast team had to implement a remote production approach from NEP UK's Bracknell base for the World Feed broadcast.
The 2020 World Athletics Half Marathon Championships, originally scheduled for 29 March in Gdynia, was postponed until 17 October due to the coronavirus pandemic. On 31 August the mass participation race was cancelled, while the elite championships remained scheduled. Kenya's Peres Jepchirchir claimed the Women's gold medal while Jacob Kiplimo of Uganda took the Men's gold last Saturday.
About 250 athletes from more than 50 teams took part in the races, which followed a looped 5km circuit around Gdynia's city centre before finishing on its main beach on the Baltic Sea coast. The sole World Championship event to take place in 2020 was streamed live on the World Athletics website and associated platforms, and via more than 20 broadcasters around the world.
Rights holding broadcast takers in the European region were TVP Poland, BTRC Belarus, TV2 Denmark, The Sports Channel Israel, RAI Italy, M4 Sport Hungary, NPO Netherlands, NRK Norway, Arena Sport in the Balkans, Match TV Russia, TRT Turkey and the BBC in the UK.
World Athletics Productions (formerly IAAF Productions) is a joint venture that commenced in January 2018 between World Athletics and ITN Productions for host broadcasting and media production of World Athletics events. In June 2019 a decision was taken to rebrand the International Association of Athletics Federations (IAAF) as World Athletics. The new brand identity began its rollout in October 2019 after the IAAF World Athletics Championships Doha 2019 and following Congress's approval of the change to the Federation's legal name.
A one-day TX, the World Half Marathon was live from 11:45 until 14:45 local time in Gdynia on Saturday. Event coverage comprised a 16 camera plan in which six were cabled, two roaming RF, four RF motorbikes, one Cineflex on a helicopter, a drone, one camera in the Mixed Zone and one beauty camera. Live feeds and highlights were uplinked from site via EBU-arranged satellite truck facilities in the OB compound for international rights holding broadcasters to downlink.
To find out how the host broadcast production team changed direction at such short notice and the technology approach taken to ensure delivery and reliability, SVG Europe sat down with Ian Auger, World Athletics Productions, technical director & ITN head of engineering; Daragh Bass, NEP UK, head of sales Media Solutions; Andreas Baumann, NEP Germany, senior sales manager; Mark Fulton, World Athletics Productions, executive producer; Holger Reichert, NEP Germany, on-site technical manager; and Josh Turner, TV director in Bracknell.
Ian Auger: "The biggest challenge for us was the curve ball with new quarantine restrictions in the UK late on, and trying not to bring the team out. Quite early on we decided we would do remote commentary, which is a fairly tried and trusted solution.
"Then, with ten days to go the UK changed its quarantine rules and we had to look at bringing less of the production team out to Poland – working with all parts of NEP so that we could host Josh and the PA and the VT producer and graphics operator in Bracknell."
Andreas Baumann: "It was really interesting, it was challenging and it was fun! It wasn't just NEP UK involved, but also NEP Germany and NEP Belgium and the wireless part was delivered by NEP Netherlands. It was a real one-team production in Europe.
"We had motorbike cameras, motorbike drivers, camera operators and EVS operators from the Netherlands. Technical crew was from NEP Germany, with audio, vision and camera operators. People came from Belgium with the OB truck, and putting the remote production aside there was RF kit coming from NEP UK via The Netherlands, along with the helicopter and the RF cameras."
Daragh Bass: "Credit needs to go to the production management team, and in particular on-site project manager Stefan Dörries, who pulled a lot of elements together from different parts of NEP – and of course to Andreas for piecing various elements together as well.
"We were quite happy with remote commentary as a technical solution, as we do hundreds of remote commentary events per month in NEP. But to change that to sending multiple camera angles, all in sync, with low latency contribution and audio in terms of talkback between Gdynia and Bracknell — that was more challenging.
"We came up with a couple of plans, including the possibilities for managed and unmanaged connectivity. Around 18 months ago we helped do the IAAF World Relays event from Yokohama with a live remote production from the NEP Andrews Hub in Sydney. We had cameras on site but we brought back all the camera signals discretely and all the hardware essentially sat in the Australian hub.
"We briefly looked at that as a production model, but quickly ruled it out due to lack of managed connectivity and the very tight turnaround. So we had to look at a public internet solution where we could extend monitoring, talkback and control of certain elements from the OB in Poland back to the UK."
Mark Fulton: "Yes I was nervous when remote production was mentioned! We have an extensive relationship with NEP, and especially NEP Germany. We've been working with them for over two years now, doing the World Indoor Tour and World Cross Country Championships.
"My fears were allayed very quickly that this solution would work. My eyes were open, and we just needed to be sensible. As soon as the guys talked through the proposed solution – you've got to have confidence in the facilities you use, so any fears were alleviated pretty quickly.
"Everyone was supposed to be on-site originally including Josh, the PA, EVS operators, floor managers – everybody was to come from NEP UK except for the technical facilities from NEP Germany.
"When the quarantine happened I rang everyone from a production point of view and said 'this is the situation: you're going to have to quarantine when you come back'. Some people said they couldn't do that. I think that because sport has been so decimated so much over the past seven months we couldn't insist that people come out on-site. We were very understanding and said to people 'if you can't come, we completely understand'.
"I think it's worth also pointing out that what made it extra 'tasty' on site, if you like, is that on the Tuesday or Wednesday the Netherlands also put Poland on the quarantine barrier. Now our motorcycle pilots, who are all Dutch police officers, could not quarantine as this is secondary to their normal jobs. So literally, three days out from the event, we had to find five new pilots for the bikes!"
Andreas Baumann: "Yes, Stefan Dörries together with Robin van de Wetering and Patrick Oostema from the Netherlands did a great job, calling everyone they knew across Europe for motorbike drivers."
Josh Turner: "It was as close to being a normal OB as I could imagine, apart from the fact that I kept trying to cut cameras myself! But so much so that when I finished and looked at the clock I thought, 'I wonder what time my flight is back from Poland?' I had just been looking at everything as if I was in Poland – and then I realised I'm going to be home in an hour.
"When I finished and looked at the clock I thought, 'I wonder what time my flight is back from Poland?'" – Josh Turner
"So from my perspective everyone was on it: I just came in and tried to make it look as nice as possible, with Mark telling me what the main story was. From that point of view it was delightful. It ran smoothly.
"Also, having the commentary with us was good as we were all together and I could speak to them and run them through everything. I was just upset I couldn't cut the cameras myself: I kept trying to press the desk in front of me which was doing nothing!"
Making the right remote production choices
Daragh Bass: "The biggest thing with any production is ensuring reliability and redundancy. If you look at everything through that lens, it helps you make the decisions on what areas of the production you feel comfortable with remoting out.
"Technically, everything is feasible. There are many options. But given the very tight timescale and the connectivity challenge — and the fact that this is a global World Feed going to takers all over the world – we needed to ensure the redundancy and reliability of the feed itself.
"So we went through the various production roles and asked, 'where can we add some sort of resilience?' We can put Josh in the UK and keep the vision mixer on-site, the idea being that in a worst case scenario if we lost the link to the UK, between Mark on-site to provide editorial direction and a local vision mixer, they could hold the production together for a period of time until Josh could come back to take control.
"That's the approach we took. We looked at EVS and remoting the vision mixer surface – again, technically all feasible. But the biggest challenge was connectivity: we were relying on public internet. The event was on Saturday and fibres on-site were being spliced on the Thursday and Friday. The first time we saw the link was Friday lunchtime – less than 24 hours before the event.
"With that in mind, I think we made the right choices as to who to locate where. We worked with Deltatre to remotely control graphics, with the graphics server on-site and the graphics operator in the UK. In a worst case we could get alternative access to that graphics server and maintain the integrity of the timing graphics, which is a key part of this type of production – a key indicator of what's actually happening in the distributed racing environment that is road racing.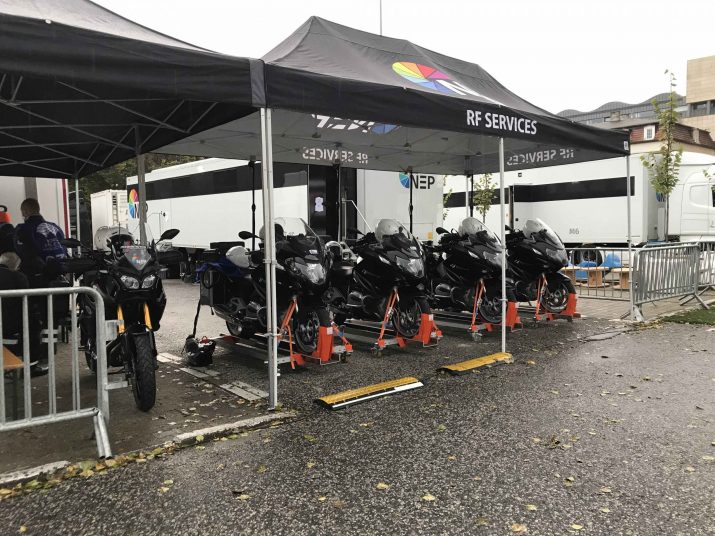 "A big challenge was finding the right kit at the right time. As you can imagine, low latency encoders and decoders are in huge demand at the moment. We're doing a high volume of events using this type of kit all the time. Working closely with our sister company Creative Technology – who were also involved in doing the presentation remotely – we were able to find the kit and working together we overcame the challenges around getting it to site and getting it back on time for the next production.
"The other thing we wanted to do in addition to the encoding and decoding was offer some sort of redundancy around the internet connection. It is public internet, so we used a solution to bond multiple internet sources on-site in Poland and then again at NEP in the UK we had multiple internet connections coming into the building via our connectivity company NEP Connect. So by taking multiple sources of internet in Poland and in Bracknell, we were able to offer some redundancy across the link. That added to the security of the event.
"We were quite limited in the amount of signals we could bring back. Obviously Josh wanted to be able to see previews of graphics, EVS and other parts that sit outside of the realm of however many cameras you have.
"So what we did was use multiviewers to encode signals to come back and then in the UK used DVEs to separate the multiviewers back out into individual camera tiles so that Josh could choose the production stack layout he wanted. And hopefully that went some way to recreating the feeling of being on-site.
"And from a talkback perspective it was about ensuring everybody could talk to everybody when they needed to: that was a key element because of course Mark and Josh and the PA and graphics and commentary are all in constant communication with each other. It was essential to ensure the relevant talkback matrix was there."
Ian Auger: "We didn't actually see the helicopter until the morning of the event, because it was stuck in fog on the way out on Friday! It was rigged on Friday evening and the first time we saw it was at 9am on Saturday ahead of the event. Thankfully we had 4G back-up on the motorbikes so we could still get signals back from them, but it was another thing to add to the complexity and nervousness leading up to the event."
Daragh Bass: "The solutions are changing as we go. One development that's come out of this period is our NEP Home Studio platform. Essentially that's as simple as providing the ability to view synchronous monitoring and talkback directly from a web browser.
"It didn't just apply to Poland in this instance: we also had to minimise the amount of people in Bracknell, for social distancing reasons. We used Home Studio to create a monitoring solution for third party executives, people from World Athletics and people from World Athletics Productions so they could be across the production from home.
"Areas like this are really where innovations have come about in the last few months; creating platforms that are very secure in terms of access. That Home Studio portal is pushing through projects for probably 20 different productions all over the world on any given day. There have been a host of innovations such as this in the past few months."
Connectivity the key to remote production and new work-life balance
Andreas Baumann: "We have been working for a few years with ITN. We like it when there's something challenging in a project. There's nothing more boring and dangerous than when there is no tension!
"If you are challenged and under tension you are really focusing on the project. If you lose your focus, then mistakes happen. I like when something is challenging: however I don't need it every week, to be honest!"
Holger Reichert: "Looking back now, I am proud of what we achieved. It was brilliant. On-site we worked right up until ten minutes before the event. When the show started, everything was calm. That was the first chance I had to sit down, watching the programme, and I thought to myself 'Oh, it works. Everything works.' That was pretty amazing."
Ian Auger: "It has shown us what is possible. Obviously the curve ball wasn't ideal, but we like a challenge. Obviously the other part of ITN's business is news, so we're used to doing things quite last-minute. I'm quite comfortable with that.
"I think the key to all of this is connectivity. Connectivity is king. If we'd had possibly another week we could have got point-to-point circuits in place, which would have offered us potentially the chance to do EVS and some other elements [remotely] quite easily.
"For the future we need to assess what connectivity options are there and then make a plan based around what's available to us – given a bit more time. In the COVID world, which is going to go on for some time, this saves a lot of travelling while still delivering the product. The better connectivity we get the better the remote production facilities we can offer."
Mark Fulton: "What goes on behind the scenes is phenomenal, with all the collaboration we put in place. As well as Josh I've got to take my hat off to the PA Lisa Rolandi; to Sue Helliwell, Lucy Dear and Stacy Kinnear in production management; the commentators; and one other person I have to thank is VT co-ordinator Anneka Radley, working with and directing EVS operators remotely from a thousand miles away.
"We've talked about the live event production: Anneka actually cut a one hour highlights show remotely as well from back in Bracknell. I know that as a VT co-ordinator 15 years ago if anyone had asked me to do that I'd have said you were barking mad! She was phenomenal.
"Even though we were in Poland and Bracknell we were still very much a team and a tight unit: and the key to it one hundred per cent is the communication. That is absolutely vital. I don't think there was one raised voice or one argument during the whole week. That's testament to everyone having complete and utter confidence in everyone else. This is a new way of working."