Pixellot teams with FloSports for AI automated streaming of over 700 live basketball games
FloSports has signed a deal that will see it use Pixellot's AI-automated technology to stream more than 700 basketball games live on its FloHoops.com service.
FloSports, based in Austin, Texas, is a venture-backed OTT subscription video streaming service dedicated to sports, offering live and on-demand access to tens of thousands of competitions across 20-plus sports globally. FloSports offers a growing library of more than 2,000 hours of premium content and owns exclusive broadcast rights to 4,000-plus premier events, with over one million hours live streamed since inception.
Meanwhile Pixellot works with schools, clubs, leagues, and federations worldwide to stream more than 40,000 hours of live sports per month. FloHoops will incorporate Pixellot's AI-Automated production solution into its live broadcasts.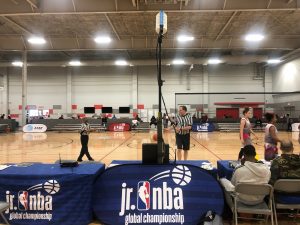 "It's easy to turn on the television to watch your favorite professional basketball team play, and the same should be said for the future of all sports," said Alon Werber, CEO of Pixellot. "Technology like ours, when partnered with a popular OTT service like FloSports, offers unprecedented coverage of one of the most exciting youth basketball tournaments in the world. A true example of the democratisation of sports production."
Added FloSports' director of production, Eric Helton: "FloSports is dedicated to providing the most authentic and highest quality coverage of games, tournaments and competitions from start to finish. After testing Pixellot's AI-Automated technology, we immediately realised that it allowed us to produce games at scale with limited human intervention. We believe it is the perfect solution for this type of tournament coverage, and hopefully many more in the future."