Platinum Sponsor Roadmap interview: Dolby Laboratories
As part of our Platinum Sponsor Roadmaps series of interviews, vice president of commercial partnerships Javier Foncillas discusses the priorities for Dolby Laboratories around the virtual version of IBC 2020 and outlines what else is coming down the line that might be of interest to sports producers and broadcasters.
---
---
What are the Platinum Sponsor Roadmap interviews?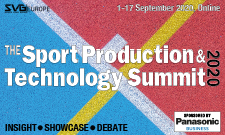 To dovetail with the virtual IBC, and as part of the Sports Production & Technology Summit, SVG Europe has invited its Platinum sponsors to provide an insight into their future plans for the sports broadcasting and production sector. The interviews, completed in the week leading up to the virtual IBC, were conducted by an SVG editor via the Zoom video conferencing platform.
To watch more videos like this, visit the dedicated Platinum Sponsor Roadmap playlist on SVG Europe's Youtube channel.