Poland's TVP delivers immersive experience for Euro 2020 with HDR and Dolby Atmos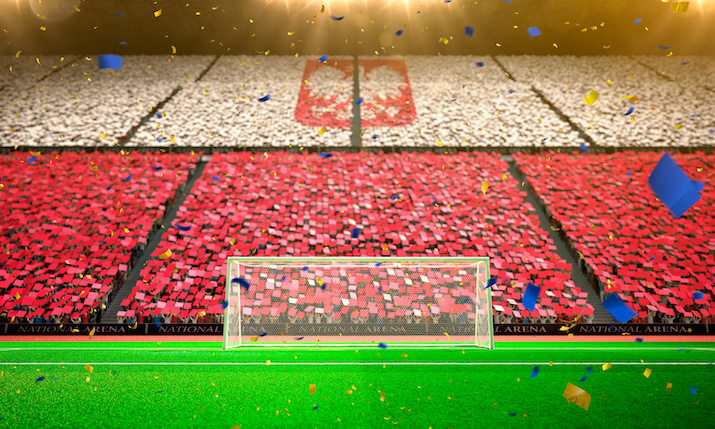 Dolby Laboratories has collaborated with Telewizja Polska (TVP) to deliver Dolby Atmos via Dolby AC-4 next-generation audio for a temporary commercial channel for Euro 2020.
TVP is broadcasting free to air in UHD quality on 49 transmitters covering about 90% of the territory of Poland in the new DVB-T2/HEVC standard following intensive testing with infrastructure provider Emitel.
Every match played during the championship will be broadcast on the TVP 4K channel. Using High Dynamic Range (HDR) image technology and Dolby Atmos sound delivered through Dolby AC-4 will provide football fans in Poland with a more immersive viewing experience, at no extra cost.
TVP is also adding a level of personalisation for viewers, only made possible through Dolby AC-4 technology. This includes stadium ambience from the football pitch, giving viewers at home the feeling of being at the heart of the action with the players. In addition, fans are able to select personalised commentary from a choice of Polish or English as well as audio description to accompany their TV viewing experience, which would be particularly beneficial to visually impaired fans.
Javier Foncillas, vice president commercial partnerships, Dolby Europe, said: "TVP has been leading the field in its drive to ensure it offers viewers the benefits of Dolby AC-4 next-generation audio. In combination with Dolby Atmos immersive audio, dialogue enhancement, audio description and language personalisation are all game-changing features that ensure that fans get the most engaging viewing experience as they settle in for what will no doubt be an exciting tournament."
TVP is the first public broadcaster in Europe to offer such a UHD service to terrestrial viewers nationwide having first provided an experimental Dolby Atmos immersive audio production in 2018 for Poland's pre-World Cup match against Lithuania.