Polsat Group and Tellyo extend collaboration for editing, clipping and publishing content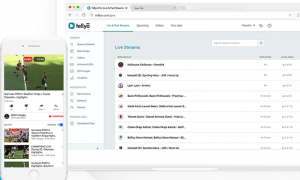 Polish media and telecommunications group Polsat Group has signed a further contract with long-time partner Tellyo to continue to use Tellyo Pro for editing, clipping and publishing its video content.
Polsat Group uses Tellyo Pro across its TV channels, including Polsat Sport, Eleven Sports Poland, Polsat News and its online video service IPLA. The decision to extend its partnership with Tellyo allows Polsat Group to use Tellyo Pro for extensive editing, making short-form clips from live content and publishing those clips to social and other digital destinations.
"We use the technology widely, not only to convert video content but also to restream previously broadcast TV content and to get it out to social media and digital channels, including the IPLA platform, to increase viewer engagement across multiple channels. Nowadays we are converting 500% more content over Tellyo Pro than when the partnership began in 2017," said Grzegorz Janczura, internet projects department director at Polsat Group.
Commented Richard Collins, CEO at Tellyo: "It is great to once again renew our relationship with Polsat Group. We've gone from 10 users of Tellyo Pro at Polsat News three years ago, to more than 70 users across its entire organisation, showing just how versatile our technology is for this fast moving, ambitious media company."
"Editing, clipping and publishing today needs to be done quickly, efficiently and, quite often, remotely. Tellyo Pro enables Polsat to achieve this flexibility and efficiency easily, with no complications," concluded Collins.
Tellyo Pro is a cloud-based platform for live video editing, clipping, streaming, production and distribution. Users can create frame-accurate clips and enhance them with graphics, overlays and different aspect ratios all in real time, so content reaches fans first. It also enables users to produce unique and compelling live content and stream it to multiple digital and social destinations easily.