Post-World Cup, Fox Brasil installs Lawo consoles permanently at Rio facility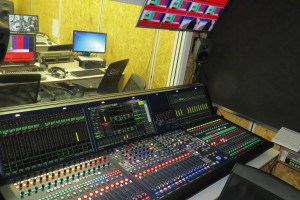 For the Brazilian arm of Fox International Channels (Fox Brasil), coverage of this year's World Cup tournament also marked the move from analogue to digital broadcast production. Temporarily deployed in the broadcaster's studio at International Broadcast Center (IBC) in Rio de Janeiro, the Lawo audio consoles, routing system and video devices that made the move possible have been relocated to Fox Brasil's permanent broadcast facility, also situated in Rio.
The Lawo equipment comprises a Nova73 HD, which serves as the central audio router, a 48-fader mc²56 MKII console and two further mc²56 MKII consoles with 32 faders each. In addition, four V__pro8 video processing devices from Lawo's video product line serve as embedder and de-embedder units at the heart of the broadcast centre.
The shift to digital was prompted by the need for greater flexibility, efficiency and reliability, which were crucial for coverage of the FIFA World Cup. The opportunity of using the new Lawo systems purchased for their later installation in the broadcaster's permanent studio already in the broadcasts made from the IBC offered additional benefit, as Fox Brasil didn't need to rent digital equipment during the tournament.
The decision to adopt Lawo's technologies followed consultation with various manufacturers and system houses, with the best solution offered by LineUp, Lawo's partner in Brazil. Led by system engineer Daniel Lopes, the LineUp team showed their commitment already prior to the sports event, installing both the Lawo video and audio equipment in the IBC, and providing technical support during the World Cup.
Renato Maluhy, engineering nanager of Fox Brasil, said: "With our step to digital infrastructure we gained a new level of flexibility in the use of available studios and SCRs, as well as in the efficient employment of our staff. There are no more bottlenecks, and we have state-of-the-art operation and easy handling from reliable equipment offering high performance and quality. With the Lawo audio consoles, router and video processing units, we are now up to the standards of the international broadcast market."
"Being based on Ravenna/AES67 standard, the Lawo equipment is easily integrated into our IP infrastructure. This gives us a future-proof investment and represents a major step towards flexible and efficient content production, with all content being available within our organization," said Luis Santos, director of engineering & operations at Fox Brasil.
"We will be able to extend our IP infrastructure without restructuring it, and we will reach a new level of savings in time, money and personnel expenses at OB productions through less cabling and by using IP structures," he concludes.