Premier Sports unveils presentation and production plans for PRO14 rugby
A line-up of top pundits, every match shown live in HD and a 'fresh' approach to presentation are among the plans being laid out by Premier Sports ahead of its inaugural season broadcasting the PRO14 rugby.
The 2018-19 championship, which involves professional rugby union sides from Wales, Ireland, Scotland, Italy and South Africa, kicks off on Friday 31 August with three games live from Cardiff, Swansea and Parma.
At the broadcasting helm for the first time in the UK will be Premier Sports, the pay-TV organisation founded in 2009 by Irish businessman Michael O'Rourke, a former joint chief executive and part owner of Setanta Sports.
Premier Sports has the UK rights to the PRO14 after signing a three-year deal in April that will see it broadcast all 152 games live each season until 2020-21.
"It will be our number one sport. PRO14 have given us an opportunity and we have to deliver for them and show that we can do a good job."
Of those games, the majority will be shown on the subscription channels Premier Sports 1 and 2 and on its online Premier Player but one game a week will be available free-to-air on its FreeSports channel.
Through a sub-licensing deal, one game per week will also be screened live by S4C, ensuring that Welsh language commentary remains a part of the coverage. Games with Irish commentary will be shown in Northern Ireland on TG4.
If that set-up sounds complicated it is worth noting that, in previous seasons, UK broadcast rights for the tournament were shared across Sky Sports, BBC Wales, S4C, BBC Northern Ireland and BBC Alba.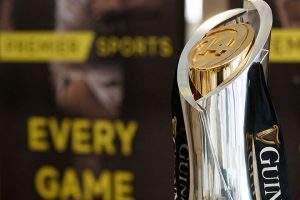 A fabulous job
Having one main broadcaster for the PRO14 is being seen as a huge plus by the clubs and associations. David Buttress, the executive chairman of the Welsh side Dragons, for one, believes it will "give supporters greater certainty in the fixture schedule" which will help attendances because kick-off times and match dates will be "more convenient."
Premier Sports chief executive Richard Sweeney, who spoke to SVG Europe ahead of the start of the new season, thinks it will be similarly beneficial to TV viewers.
"Lots of big broadcasters have done a fabulous job on the PRO14 up to now," he says.
"But one of the things you notice is that, while it was a huge tournament, it was split between an awful lot of different broadcasters, so nobody really knew where or when matches were on.
"Now, rugby fans will know that there is one place that they can go to in order to see all the matches. It offers up a feeling of comfort, consistency and professionalism."
Another first for 2018-19 is that every single match in the tournament will be broadcast live. This is a huge boon for broadcaster and viewer alike, but it will take some doing.
Making it happen
To make it happen, Premier Sports has commissioned Sunset+Vine to produce more than 200 hours of rugby. This includes the match coverage – which will also become the international feed for other rights holders – and the presentation with pre-match build-up and post-match analysis. The contact covers games played in Wales, Scotland and Northern Ireland.
Cerith Williams, executive producer, Wales at Sunset+Vine, will oversee the output.
"Presentation will be done pitch-side and will be as mobile as possible," he told SVG Europe.
"Where facilities allow and where it is practical we will try to wander. We will have a Premier Sport-branded plinth or desk as the main focal point of the presentation."
When there are multiple matches being played at once, as will occur on the opening day of the season, all games will be shown live across Premier Sports' channels and online with clips from one game potentially being shown within the coverage of another and vice versa.
"It is still being discussed," says Williams. "But there is a plan in place to downlink all the feeds and incorporate key moments from other matches in the live transmissions. Certainly, on Saturdays on mainland UK and within the footprint of the production, there will be an exchange of pictures."
Where matches kick off back-to-back, Sunset+Vine will operate a central production and presentation hub from one venue, introducing both matches from the same place, allowing the producers to build a consistent narrative across the day.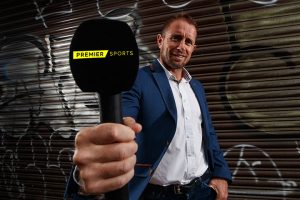 Telling the story
One of the big promises that PRO14 has made to rugby fans is that the new rights deals will facilitate "production standards like nothing ever seen before in the PRO14."
That will manifest itself in a number of ways on Premier Sports. All matches will be captured in HD, with up to 10 cameras following the action inside the stadiums. A television match official (TMO) will feature at every game and highlights shows and chat-show preview programmes will be produced each week.
"The games themselves are exciting and they stand on their own," says Sweeney.
"But Sunset+Vine has done a fantastic job for BT Sport on the Premier League football and Heineken rugby so we know they will deliver interesting production around the games too."
"The most important thing, however, is our talent," he adds. "With the line-up we've put together we're showing that we're serious. We've brought the best talent that is available to the PRO14. They will deliver really interesting analysis that tells the story of the matches and we will build from there."
"I think we'll have a bit of fun, a bit of argument, a bit of banter. We don't want it to be bland."
In Northern Ireland, commentator Mark Robson will be joined by former Ireland international Andrew Trimble and presenter Graham Little.
The Wales line-up, which includes much of the team that worked on the BBC's Scrum V, will consist of commentators Eddie Butler and Wyn Gruffydd, presenter Ross Harries, analyst Sean Holley, reporter Lauren Jenkins and former Welsh rugby players Martyn Williams, Sam Warburton and Shane Williams (pictured, above).
Rugby stars Jim Hamilton, Rory Lawson, Doddie Weir, Chris Paterson and Al Kellock will all feature in its broadcasts in Scotland where they will appear alongside presenter Dougie Vipond, commentator Rory Hamilton and presenter Emma Dodds
Cross-pollination
While pundits will cover club matches from their respective nations and regions, viewers can expect the on-screen and commentary talent to be mixed-and-matched too.
"The cross-pollination is important across the regions," says Williams.
"What I am looking to do is to get some synergy between the programmes. We'll have different talent for each region but week-by-week as the coverage builds, what we want to do is to encourage cross-referencing between the regions and between the clubs and the talent. That is very important."
English rugby teams are not involved in the PRO14 but that is not going to stop Premier Sports from trying to attract viewers, and subscribers, from England. Again, talent will be key here.
"That message has been put to us as producers of the programmes," acknowledges Williams.
"We're building our punditry teams around the three regions but over-and-above that hardcore talent – because there are so many matches to staff – we'll certainly bring in former players from England too, those that have played for the teams involved in the competition. We certainly won't be shy about putting the occasional bit of Anglo Saxon in there."
A bit of banter
It is unlikely that the PRO14 coverage will differ greatly in tone from other rugby tournaments but Premier and Sunset+Vine are certainly going to attempt to apply their own style to proceedings.
"BT Sport has been very successful with their rugby coverage and a lot of people are trying to emulate that," asserts Sweeney.
"Whether we can or cannot I don't know. I think we'll have a bit of fun, a bit of argument, a bit of banter. We don't want it to be bland. With such a large number of games, we will be bringing in different people and providing a different understanding of how the game is going. It'll be similar to BT Sport but in a Premier Sports way."
"We'll be looking to provide a different quality and a freshness," adds Williams.
"Warmth, intimacy and humour are some of the things that we'll be looking for in our coverage. Those are elements that might make our coverage different from other broadcasters."
Supporting Sunset+Vine in this mission will be two OB suppliers: Televideo in Wales and Scotland and NEP in Northern Ireland.
Considering the options
While all the matches will be captured in HD, and the online Premier Player will show them in HD, not every match broadcast on satellite, cable and DTT will be of a similarly high resolution.
On Sky, for example, the Premier Sports 1 channel is currently available in HD, but Premier Sports 2 is currently SD. A number of HD tests have taken place for the FreeSports channel too but that has not resulted in a definitive switch.
"Whether or not FreeSports will ever be HD, I don't know," admits Sweeney.
"We've been testing FreeSports in HD, but the channel includes a lot of content that is brought in from around the world and we felt that this content wasn't going to deliver [in HD] so we've put it on hold for now while we consider our options."
An upgraded version of the Premier Player will be launched ahead of the season's kick off, he adds.
Irrespective of whether it is in HD or SD, there is huge excitement at Premier Sports about the PRO14, a tournament that could really put the broadcaster on the map.
"This will become the flagship event for our channel," concludes Sweeney.
"It will be our number one sport. PRO14 have given us an opportunity and we have to deliver for them and show that we can do a good job."
Premier Sports' coverage of the PRO14 starts on 31 August across TV and online.