Preparing for PyeongChang 2018: Eurosport unveils presentation studios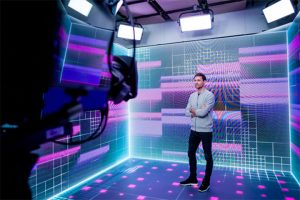 Eurosport has kitted out 17 presentation studios around the world – and constructed a mobile digital studio – to help it cover the Winter Olympics in PyeongChang.
The presentation studios are in various locations including PyeongChang itself, Germany, Norway, Sweden, Poland, the Netherlands, the UK, Norway and Finland.
Headlining Eurosport's production offering in in PyeongChang will be The Cube (above), a virtual reality studio driven by technology from Stype and Vizrt.
The studio will use augmented reality, enhanced data and 360-degree graphics to create what Eurosport describes as an "immersive and interactive environment offering unmatched insights into the finer details behind winter sports."
Among the pundits being used by the broadcaster are six-time Olympic medallist Bode Miller (alpine skiing), Germany's gold medal-winning ski jumpers, Sven Hannawald and Martin Schmitt as well as Swedish NHL legend and double Olympic ice hockey champion, Peter Forsberg.
In addition to the fixed presentation studios, a dedicated mobile digital studio will move among Olympic venues producing social-first short-form clips.
Eurosport Sweden and Eurosport Norway will also broadcast live from dedicated roof-top studios for the duration of the Games as well as from studios at venues.
Eurosport chief executive Peter Hutton, who noted that two years of planning had gone in to preparing for PyeongChang 2018, said: "The Cube allows us to take analysis off the flat screen and enable our experts to explain with their hands and their bodies, telling stories that explain technical differences in a way that makes the complicated simple."
Eurosport PyeongChang 2018 coverage by numbers:
48 countries
4,000 hours of coverage
100 events
900 hours of live action
17 studios
Eurosport is showing the Winter Olympics across Europe with the exception of France, Russia and the UK. Eurosport will be an official Olympic broadcaster in the UK in 2018 and 2020.
Read more about Eurosport's preparations for PyeongChang 2018