Presteigne Broadcast Hire invests in Canon 4K lenses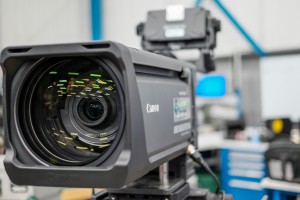 As part of its multi-million pound investment in UHD equipment, Presteigne Broadcast Hire has purchased multiple 4K studio, field, ENG and telephoto lenses from Canon. Lenses included in the deal are UHD DIGISUPER 86 (UJ86x9.3B) lenses which provide Presteigne with exceptional optical performance, surpassing even 4K resolution and offering outstanding focal range. The field broadcast lens is ideal for use within live broadcast production environments and combats any camera shake with its built-in optical image stabiliser.
Presteigne has also purchased both the CJ20ex7.8B and CJ12ex4.3B 2/3" lenses. Introduced last year alongside the CJ12ex4.3B, the CJ20ex7.8B is a zoom lens with the world's widest focal length. These UHD lenses are extremely portable, and have been built to be versatile and flexible, meaning they can be used by Presteigne's customers for any kind of ENG and studio productions.
Alongside these lenses, Presteigne will also benefit from a huge range of focal length with the HJ14ex4.3B, which covers a wide focal range of 4.3mm to 60mm (or 120mm with its extender) as well as HJ24ex7.5B telephoto lenses. With a 24x zoom and unrivalled focal length of 180mm, the HJ24 offers exceptional HDTV performance with enhanced image quality, ease of use and operability.
"We've studied our choice [of lenses] very carefully. We normally expect professional lenses to have a working life of at least ten years. This substantial investment in 4K lenses is ample demonstration of our belief that 4K will continue to gain momentum and become if not commonplace, then a readily achievable standard for motion pictures, television dramas, and live events," said Presteigne CEO Mike Ransome.
"Canon's optical technology has been at the forefront of professional lenses for over 50 years and this deal allows Presteigne's customers to benefit from the latest innovations built in to our field and broadcast lenses – including our enhanced 4K image quality," said James Burwood, Product Manager, Professional Imaging, Canon UK & Ireland. "Adding these lenses to its inventory means Presteigne is able to offer huge versatility in its range of available lenses and also benefit from Canon's unique in-house lens service capabilities."