Programme completed for SVG Europe's inaugural Nordic Summit at Media City Bergen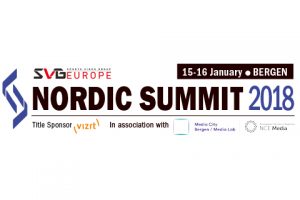 Sky Sports' Head of Operations James Clement, NBA EVP Operations & Technology Steve Hellmuth, and Mediability Head of Systems Ole Johan Skogheim are among the latest additions to the roll-call of speakers at SVG Europe's first-ever Nordic Summit. A collaboration with NCE Media, the event will take place at the new Media City Bergen complex in Norway on January 15-16.
The Nordic Summit will include an extensive tour of the Media City Bergen site as well as a half-day seminar programme including sessions on the development of the site, the present and future of broadcast sports graphics, the possibilities heralded by remote production, and a keynote conversation with Eirik Solheim, Strategic Advisor of Norwegian broadcaster NRK.
The event is being sponsored by Vizrt (Title Sponsor) and Sixty (Networking Sponsor).
"We are delighted by the response to our inaugural Nordic Summit – an event that we have wanted to stage for several years now," says SVG Europe David Davies. "With NCE Media we have found the perfect collaborator, and it has been a pleasure to work with them on the preparations for this event. We all eagerly look forward to the summit in January – the first event in what promises to be the busiest year to date for SVG Europe."
For a full programme and more information please visit https://www.svgeurope.org/nordic-summit-2018/.