World Fencing Championships 2015: Pursuing a Panoramic view in Moscow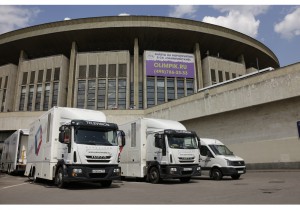 Moscow's Olympic Stadium, or "Olympiyskiy" as it is known locally, hosted the FIE (International Fencing Federation) World Fencing Championships 2015 between 13 and 19 July. Fencing was one of the original Olympic sports, and this event in the Russian capital is the main tournament of the year, bringing together the best fencers in the world.
More than 900 fencers from 108 countries competed to win the title of Champion and, just as importantly, to qualify for the Olympics in Rio 2016.
Major Russian production company PanoramaHD, using its 16 camera HD vehicle, provided television production coverage of the event. "Our brief was to provide two to three-and-a-half hours of coverage each day in such a way that it would give the best possible visual experience, enabling viewers to gain the maximum enjoyment of the events. For this reason, we decided on extensive use of super slow motion and hyper-slow motion cameras," states Panorama's CEO, Vasily Kiknadze.
Camera configuration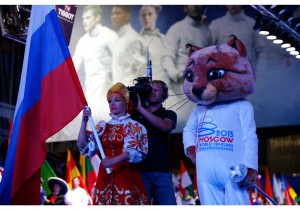 A total of 13 cameras were deployed for the tournament, of which eight were regular Sony HDC-1500 RDs, three Sony SSM HDC-3300R and two Vision Research Phantom V642 cameras. The v642 is the third generation broadcast camera and has the unique ability to both record and playback ultra-slow motion footage simultaneously, while adding the capability to accurately colour match regular speed broadcast cameras. It can be connected to a controller in the OB truck, which can access the camera's memory for playback while the camera operator is framing and recording the current live action.
"This hyper-slow shooting system made it possible to show the most beautiful shots of the action," says Kiknadze. "We also utilised a TV crane and a remote controlled overhead camera to capture the very best of the action."
Working with organisers
Kiknadze continues: "We started installing equipment two days ahead of the event's first contest. The 
first day was rigging and a technical run-through, while the second was a dress rehearsal with the local organising committee. That committee had arranged for lighting in accordance with FIE requirements, but we provided a few extra lighting kits for the Federation's local needs."
Television graphics for the tournament were provided by Swiss Timing company in accordance with the FIE rules. Five EVS units provided replays from a variety of angles, while the same system formed the basis of editing, which was carried out in the Panorama HD truck.
Widespread distribution
Alongside the live broadcasts that were distributed to a large number of domestic and international channels, Panorama also provided DSNG supported satellite communication channels for ARD international. Meanwhile, a live stream was also available on the FIE's YouTube channel.
Kiknadze reports that the International Fencing Federation management greatly appreciated the Panorama production crew's input and expertise. "The comment from Stanislav Pozdniakov, the first vice-president of the Russian Fencing Federation, was that the organisation was very glad to have Panorama as its partners in the international TV signal production for the Fencing Championships. The Federation first had a chance to see our team's professionalism during the 'Moscow Sabre' tournament held at the Druzhba multipurpose sports complex last May, and based on that experience they were happy for us to achieve the same high level at these Championships."