Examining the rise of SAM's LiveTouch ahead of the Head to Head Challenge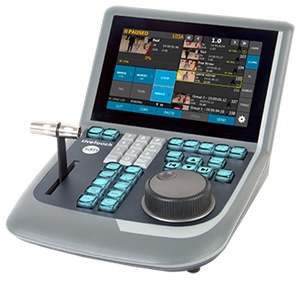 On December 19 SAM will host the LiveTouch Head to Head Challenge in London, supported by SVG Europe. Ahead of this event, SAM EVP and General Manager, Media Software Solutions, Neil Maycock, sat down with SVG Europe to consider growth applications for LiveTouch and its most exciting features for sports and other applications.
Where is LiveTouch being used today?
One of the most recent LiveTouch customers is Formula One. With the adoption of UHD, Formula One took the opportunity to look at the latest technology available on the market, and that's when they decided to adopt SAM's LiveTouch system.
As well as support for 4K, LiveTouch provides Formula One with more options for collaborative workflows. Instead of a single replay operator being able to see 10-12 cameras on the circuit, all operators (8-10 depending on the circuit) can now see all the cameras at the same time, which could be as many as 60+. Operators can mark interest points, create clips and play content to air with dynamic speed control. LiveTouch allows rapid navigation, on-air playlist editing and easy search and sharing tools. Furthermore, a unique multi-cam interface provides Formula One with fast, easy access to all camera angles in live productions, allowing for faster access to more content than any other system.
Another first for SAM and LiveTouch was working with CTV, the OB company that covered the 2017 Isle of Wight Festival. CTV were commissioned to capture the Festival in UHD for the first time. The reason CTV chose LiveTouch was the integrated editing capabilities meant that, even though they were working in UHD, CTV could edit and drop shots into the broadcast almost live.
What is SAM doing to support operators use the LiveTouch system?
Based on interest from operators, we are holding a number of training sessions across Europe over the coming months and have also launched the SAM LiveTouch Challenge, which is taking place in London on December 19th. The idea is to give operators a chance to have fun while they learn about the LiveTouch system and to compete against their peers to become the Challenge winner.
The LiveTouch Challenge will begin with an informal session to learn the essential replay functions of LiveTouch such as clipping highlights, playback and building playlist sequences. Attendees will then create the fastest highlights and the most compelling playlist sequences with scoring during the tournament based on both speed and creativity.
What's so important about SAM's LiveTouch system?
SAM LiveTouch is the world's fastest, most intuitive sports replay system, allowing operators to use both UHD and 1080p across a single platform. It makes highlights and instant replay workflows faster and more intuitive. For instance, the touch screen controller is quick to learn, easy to use and highly accessible to all operators.
LiveTouch is easily configurable to support large events and multiple studio productions. Uniquely, it also supports integrated editing and eliminates the need for media movement or duplication. Highlights packages get to air faster, and system design is dramatically simplified. Shared storage and inter-server streaming enables LiveTouch to scale to HD and UHD productions of any size.
In essence, LiveTouch provides the same scalability and replay toolset as HD without compromising any aspects of the workflow. It offers instant collaboration, integrated editing and advanced replay tools in UHD. Users can also mix freely between HD and UHD where productions include multiple resolutions.
Where can readers find out more about the LiveTouch Challenge?

Visit the SAM website to register for the LiveTouch Challenge, which is taking place on Tuesday, December 19th at Soho House Dean Street, London, W1D 3SQ. Places are limited and the deadline to register is December 5th. The overall challenge winner will win an iPhone X.