Quantel unveils GPU-powered Pablo Rio for color correction, finishing
For Quantel, IBC2012 is all about streamlining workflows. At its press conference Friday morning, the company unveiled several postproduction solutions aimed at reducing time and manpower while allowing production pros to access and edit content from almost anywhere. The highlight of these new offerings is Pablo Rio, Quantel's new high-end color-correction and finishing software.
Pablo Rio is available as a choice of software or  a manufacturer-backed turnkey system. The key to the software is NVIDIA Maximus multi-GPU technology, which allows  extensive interactivity with the user.
"The [NVIDIA] GPUs do the heavy lifting for the image processing," Quantel Director of Marketing Steve Owen said during the company's press conference on Thursday. "The really cool thing about that from a Quantel perspective is that NVIDIA is busy making new ones. They have new [Kepler-powered GPUs] that are going to come out at the end of the year. And NVIDIA knows about Quantel, and they have already given us some of these Keplers to be working with. So in a few months time, Pablo Rio becomes even faster and more affordable."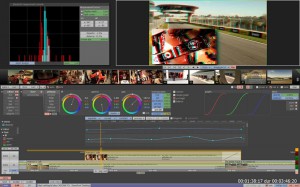 Pablo Rio is available as software to run on the user's own hardware and storage or as a fully configured and tested turnkey configuration. Pablo Rio comes with a choice of the Neo or compact Neo Nano color panels. Both software and turnkey systems integrate into today's data-centric post pipelines and work across a wide range of data formats, including high frame rate, Stereo3D, OpenEXR, RED HDRx, Sony F65, Arri RAW, Canon, Phantom, Silicon Image, and GoPro.
"The real differentiator here is just the power of the system," said Owen. "It's an amazingly powerful system based on the NVIDIA Maximus technology and the Quantel software that is multithreaded and multiproccesed to get it through the pipes quickly inside the box."
In addition to Pablo Rio, Quantel introduced Station sQ, an HD news-production system based on the company's Enterprise sQ offering but geared toward smaller operations. Also new for Quantel at IBC2012 is the SynthIA Interaxial Synthesis tool, which enables the interaxial distance between the two camera positions of a S3D clip to be altered in post.
Quantel also trotted out plenty of new features for its existing products, including QTube (a media shot on an iPhone or iPad can now be immediately uploaded via QTube with the touch of a button) and Enterprise sQ (enhanced file-based workflows and support for GoPro files).
Quantel also announced new partnerships at its press conference. The company has integrated Imagineer Systems' mocha Planar Tracker into the Quantel color and finishing toolset as a free upgrade for all systems running V5 software from the end of October. In addition, Quantel and Marquis Broadcast have entered into a strategic partnership agreement to make it easier for Quantel customers to fully integrate workflows between Quantel systems and third-party editing, server, and archive platforms.