Qvest Media and VRT create the 'media house of the future'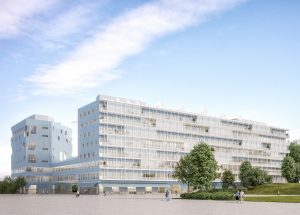 Systems architect and integrator has revealed that it has won the competition for a major new consulting and systems integration project in the European media sector. Over the next few years, the Flemish public broadcaster VRT, based in Brussels, will be entering into a close partnership with Qvest Media to create one of the most advanced media houses once systems integration has been successfully completed.
How can the ideal framework conditions for innovations be created at the levels of business, organisation and technology? This is one of the questions that Qvest Media and VRT will be addressing as part of their long-term partnership. One of the core goals, to be achieved through the simple integration of new workflows, is to allow VRT's more than 2,100 staff to respond flexibly to changed market conditions. This will allow creative content for channels such as radio, TV, online and social media to be developed and produced quickly and efficiently.
Fundamental changes to the technical design are needed for all of this. For this reason, integrated change management will be accompanying all stages of the project and will involve employees right from the start since they are an important element of the innovation project. Once this is complete and the staff have moved into a new, 55,000-square-metre broadcasting and production centre, VRT will go on air in 2022 with an extensive online portfolio as a key growth driver as well as four TV and five radio brands.
"We are absolutely delighted that VRT has put its trust in us, allowing us to be part of one of the world's most innovative media projects. It also represents affirmation of our expertise as one of the leading consultants in the media industry," says Daniel Url, managing director at Qvest Media.
During the consultancy and design phase, the infrastructure's technical equipment will play a secondary role for the time being. Daniel Url: "The way in which we consume media content with new and innovative technology is changing constantly, and in ever-accelerating cycles. In the past, media providers revamped individual sectors every eight to ten years, but now fixed cycles are a thing of the past. Media companies must be able to adjust at any time, quickly and easily to new production demands. The key to an agile production and distribution architecture lies in combining people-centred company organisation with a flexible technical infrastructure. The latter helps staff to be innovative, but is not the main driver of innovation."
To achieve this, VRT and Qvest Media are creating innovation-promoting framework conditions from spatial design to the design of the technical and operational workflows. Employees will receive the best possible support through a highly flexible technical infrastructure. This is intended to create the maximum possible scope for intuitively realising new production requirements, even without any specialist technical knowledge. One example of this is a solution that VRT summarises under the term 'Total Touchpoint Control'. This will give editors the ability to create cross-media storytelling and allow the audience to follow a broadcast on a wide range of channels. The great thing here is the enormous degree to which VRT is looking to tailor its media portfolio to its viewing and listening audiences' devices and expectations, in order to stimulate interaction with those audiences.
In other areas too, the changes in production demands have an important role to play. Part of the project will involve designing a service operations centre which will control the technology and operational processes of the entire media company, monitoring them and providing support from media to office IT. One central resources management department will safeguard the organisation of all production resources. The rigid allocation of equipment will be dispensed with in order to promote more efficient use of both the infrastructure and media assets.
VRT and Qvest Media are also breaking new ground in terms of working out innovation-promoting activities. In this case, the system architect scored highly during the tender with its efficient and tried-and-tested methods. Stijn Lehaen, CTO of VRT, commented: "Never in our history have we launched a project of this size. So we really took the time needed to find the best partner that we want to work with long-term to design the media house of the future. Ultimately, we decided through the selection process to choose Qvest Media, since we were convinced not just by the innovation concept, but also by the methods behind it. Qvest Media's many years of experience as a systems integrator also creates synergy effects in its consultancy role which VRT can profit from."
One important aspect of the methodology is the "embedded team" approach. VRT and Qvest Media will pool all project-related resources – from staff to tools. Qvest Media is taking care of the high and detailed level design, installing the technical infrastructure once the consultancy phase spanning several years is over, and migrating legacy systems to the new system architecture. The project agreement also includes an extensive staff training programme, assistance during the on-air phase and long-term support. Through close cooperation, the consultants and system designers will ultimately identify fully with VRT and by so doing achieve the best possible result for the broadcaster.