Racing TV hits the front with new virtual and augmented reality studio set
MOOV and Timeline Television help RMG migrate to a new studio hub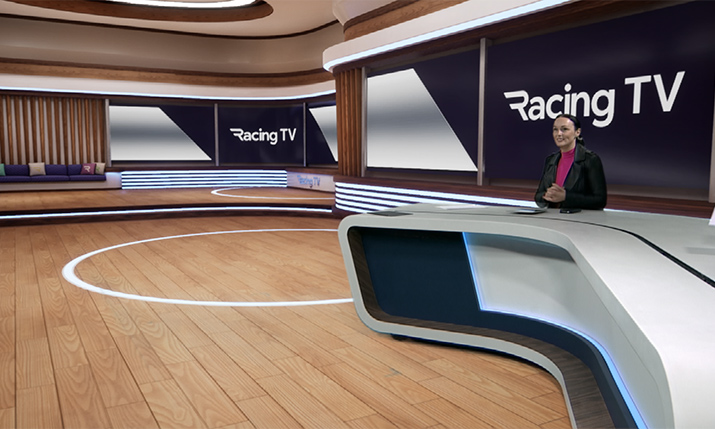 Racecourse Media Group (RMG) has unveiled a new virtual studio set that will be used as the hub for all of the horse racing output on its Racing TV channel.
Built in collaboration with Timeline Television and MOOV, the new 6m x 6m studio is made up of four zones and will bring together race-day feeds, with reporters at every course, creating what is being described as a 'watch together' racing community experience.
There are four zones are:
A main presentation desk for a panel of up to three guests per live programme
A stand-up position with augmented reality big screen, to integrate data and analysis into panel discussions
Timing information data area for analytical shows such as The Verdict
A panoramic area for festival coverage and the new home for shows such as Luck on Sunday
The studio uses Unreal Engine technology, a Brainstorm InfinitySet and the Mo-Sys StarTracker.
Adam Binns, director of broadcast and production at RMG, hopes that the studio will enable Racing TV to deliver immersive and interactive horseracing presentation coverage to viewers.
"The virtual and augmented reality environment helps us to keep the racing fraternity closely linked on an ongoing basis and will be the perfect platform for video-conferencing and other remote tools, which are so vital now," he said.
"We are very grateful for all the support and expertise which Timeline TV and MOOV have contributed to the project."
David Harnett, head of operations at Timeline added: "Racing TV required a studio that would be flexible and adaptable to allow them to create different sets for a variety of their horseracing shows.
"We already work alongside MOOV at BT Sport's Broadcast Centre, so we had no hesitation in collaborating with them and relied on their expertise and knowledge to deliver a truly immersive and innovative virtual reality studio."
Timeline has been RMG's technical managed services provider since 2012.
Nev Appleton, the co-founder of MOOV, said of the new studio: "RMG are focused on expanding the multi-platform presence of horse racing to help grow the sport in the UK and Ireland and this is something the MOOV and Timeline team are passionate about supporting."
Racing TV broadcasts coverage of racing from 35 British, and 26 Irish, racecourses and is available in the UK on Sky, Virgin and Apple TV.
The new studio, which is built inside Ealing Studios in West London, will be used from Friday 26 February starting with Mark Your Card at midday, and followed by racing from Exeter, Warwick and Dundalk Stadium.