Racing UK pushes interactive envelope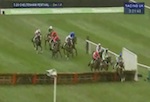 Racing UK has become the latest channel to join the UK's Freeview service through Connect TV and, due apparently to the advanced interactive services on the Connect TV platform, also boasts that it immediately provides the richest TV experience for horse racing fans in the country.
Connect TV has worked with Racing UK and its streaming technology partner Vision247 to launch exciting new interactive services. At launch, IP delivered data streams with HD quality graphics, betting and form data are integrated with the existing Racing UK TV channel, putting the consumer in control of when and how they obtain crucial racing information such as form and odds and offering choice about how deeply they want to drill down to get additional information.
"As well as providing viewers with the richest TV horse racing experience in the UK, the Connect TV platform gives us the best way of getting our channel into homes that have not signed up for a pay-TV, service, giving us an interesting new revenue stream," says Clive Cottrell, Marketing Director of Racing UK.
"It also opens up very exciting interactive opportunities to merge traditional TV delivery with IP services. For TV racing fans, data such as odds can be very important. For years now the TV industry has been faced with the problem of knowing how and when to provide additional data to viewers. This was highlighted by a major study we carried out on our viewers' habits, which told us that when it comes to data, 50% of viewers want less while 50% want more. With Connect TV, we are very easily able to provide betting and form data as an on-demand service integrated with the channel. This interactivity is really slick, quick and easy-to-use and we will continue to develop new services to meet the demands of the half of our audience that wants more data and video."
"I'm delighted that Racing UK has launched on Freeview through the Connect TV platform," said Phil Walder, Managing Director, Connect TV. "I'm even more excited that our fourth Freeview slot launches from day one with highly sophisticated interactivity. The Racing UK channel proves that the Connect TV platform is easily the best choice if you want to be able to cost-effectively reach a large number of UK TV consumers and provide them with powerful interactive services."