RadioFr And TV La Télé build first all-IP media facility in Switzerland
Swiss private broadcasters RadioFr and La Télé have completed construction of a completely new, all-IP broadcast centre for their radio and television operations, using Lawo broadcast equipment and the installation services of SLG Broadcast.
For 30 years, French-language Radio Fribourg, German-language Radio Freiburg and regional La Télé Fribourg TV programming originated from two separate facilities in Fribourg. A decision to renew and upgrade the facilities in 2019 provided the perfect opportunity to combine the two operations into a new location; dubbed MEDIAParc, the 3,000-square-metre facility occupies two floors and in addition to radio and TV studios, hosts a number of digital media distribution platforms which complement RadioFr's over-the-air broadcast services.
SLG Broadcast, which has worked with RadioFr for more than 15 years, was retained to design and construct the new broadcast facilities. SLG was responsible for the MEDIAParc concept, project planning, installation and commissioning.
A complete review of both IT and broadcast technologies was undertaken to make certain that RadioFr took full advantage of the synergies provided by an IP-based studio environment. Standards-based networking was specified, with AES67 supported for audio and SMPTE 2022-6 for video.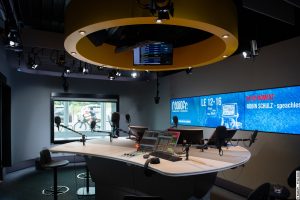 Equipment from many Lawo product lines – Radio, video and live audio – was used to give RadioFr the operational flexibility demanded by their workflow. For La Télé TV programming, a Lawo V_matrix8 provides video IP routing, processing & multi-viewer services, all managed with Lawo VSM software and hardware control panels. Another Ruby control surface with Power Core DSP engine is used for sound mixing; two Lawo V_remote4 units provide IP connection between MEDIAParc and the main TV studios in Lausanne.
The facility's technical core ties together Radio and TV audio operations, and is equipped with its own Power Core engine and VisTool GUI control. A Lawo Nova audio router is used to provide MEDIAParc's sophisticated talkback matrix; a second Nova router is used to mix playout, codec and telephone sources for the station's OB van.
MEDIAParc was designed to facilitate content production for internet distribution. Its all-IP infrastructure grants easy access to signals throughout the facility for use in producing podcasts and other social media content. The OB van is equipped with a 12-fader Lawo Sapphire mixing console for mobile broadcast events.
To enhance the sharing of audio between TV and radio operations, fiber-optic cables connect all areas. Audio from the TV studios are easily available for radio production, while cameras installed in the radio studios for Visual Radio services can also be accessed by the television production crew. Shared functions – such as studio talkback, master clocking, monitoring and phone codecs were centralized in the tech core for full-facility use.
The Audiomatrix, the heart of MEDIAParc's operations, is what makes this audio sharing possible. Connecting all broadcast resources, the Audiomatrix gives operators access to Program output buses for both Radio Fribourg and Radio Freiburg, plus auxiliary mixing busses for performances, rehearsals and other special needs. For flexibility and redundancy, twin, interconnected Audiomatrix sections run in parallel: radio and TV studio feeds, plus the Lawo Nova routers, playout PCs and phone systems are connected to Audiomatrix #1 via MADI, and to Audiomatrix #2 via AES67 — making it possible to switch audio seamlessly between studios.
The Audiomatrix also has access to outputs from all three editing studios and a remote feed from the RadioFr OB van. Codec Control software from SLG unifies selection of codecs, phone hybrids and studio feeds, enabling OB talent to remotely access in-house codecs without need for an operator in the main studio.
"MEDIAParc is the first all-IP media house in Switzerland, and as such it represents the successful realisation of an ambitious vision encompassing cross-media workflows," said Marc Straehl, CEO of SLG Broadcast.
"RadioFr wanted all-IP infrastructure for both radio and TV sides of the house. They wanted to virtualise the production environment, so that editorial PCs could contribute programming directly via the network. And they wanted standardised, future-proof solutions.
"As TV and radio stations share more and more resources, this type of seamless integration is what broadcasters require. Lawo's standards-based technology, together with SLG technical know-how, helped make the RadioFr vision a reality! We look forward to the design and deployment of many more such projects in the future."