RCS reflects on a year of innovation as it returns as a Bronze SVG Europe sponsor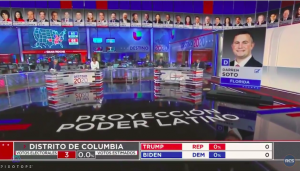 Reality Check Solutions (RCS) has confirmed its commitment to SVG Europe by returning as a Bronze sponsor.
The move comes as the company reflects on a year of change, development and achievements in 2020.
Matt Rohrs, managing producer at RCS, said: "2020 saw RCS stepping out beyond our traditional broadcast graphics technology projects. Having already taken strides into remote and cloud production, this became a growing part of our business as our clients' demand for solutions in these areas became mission-critical for many. In addition, some exceptional AR work for our esports clients and Univision with Pixotope for the US Presidential Elections, in particular, saw us set new standards across the board.
"Our ongoing dedication to innovation combined with delivering best in class solutions ensured our clients got on air with often ground-breaking technology across multiple workflows and platforms. We were fortunate to work with several clients on big events and launches in 2020 and are excited about the opportunities in 2021 as we focus on redefining broadcast and technology in this fast-changing environment. The one constant through all of this is that our clients and partners trust us to deliver. On time, every time."
On the decision to renew its Bronze sponsorship of SVG Europe, Rohrs added: "The support that SVG provides to our industry as a whole comes in addition to their position as a leading source for the latest news and information in broadcast. Reality Check Solutions are proud to continue our long-standing association in both the US and Europe."
Find out more about the benefits of SVG Europe sponsorship.