Reality Check Solutions teams up with Ross Video to welcome live Eredivisie football back to Fox Sports Netherlands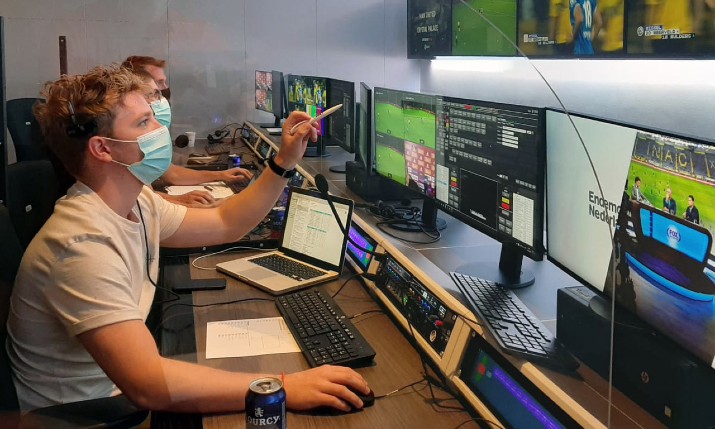 Dutch football fans have had to wait more than six months to watch Eredivisie football after last season was curtailed due to COVID-19. But, when the 2020-21 campaign kicked off earlier this month (12 September), Reality Check Solutions (RCS) was at the heart of the action, delivering its bespoke graphics and data services to Fox Sports Netherlands using Ross Video XPression systems.
Although this is the seventh season of the partnership between RCS and Fox Sports Netherlands, it is the Eredivisie debut for XPression and there could hardly have been a more challenging environment in which to launch a new collaboration.
With multiple hardware solutions, new control applications and enhanced graphics workflows all in play but with no members of the team able to be present to support them, RCS had to manage all elements of the installation, commissioning, testing and training remotely.
David Peacock, senior project manager, RCS EMEA, was thrilled at how his team rose to the challenge: "Under normal circumstances, I think it's crucial to be able to stand shoulder to shoulder with the client and to work with their broadcast engineering and production teams to deliver the perfect solution but, of course, it simply was not possible this summer. We devised an all-remote project plan, allocated additional resources where necessary and delivered what we promised."
This was the first major project that the EMEA arm of RCS has delivered using XPression real-time motion graphics systems and the level of support provided by Ross was crucial to its success.
"Of course, COVID-19 made the task more difficult but we were able to maintain our high standards and deliver this complex and demanding project with no adverse impact on the client."
"We have been really pleased with the commitment and expertise offered by the Ross Video team," enthused Peacock. "For my first experience of using XPression to be on such a major project was a daunting thought but the support has been tremendous, including providing expert remote commissioning services and even bespoke versions of XPression software to overcome specific challenges we faced."
The goodwill is mutual, as Patrick Twomey, director of XPression product management, reflected: "RCS is one of the premier providers of sports broadcast graphics design and integration services in the world. Ross Video is excited to have our partner RCS managing the rollout of Ross Video XPression for the return of Eredivisie on Fox Sports Netherlands."
RCS is one of many providers involved in the ambitious Fox Sports Netherlands upgrade which includes new studios and a more cinematic look-and-feel using completely cloud-based based workflows.
Henk van Meerkerk, head of production, Fox Sports Netherlands, said: "We are delighted to have a long-term relationship with Reality Check Solutions and they have delivered once more. Despite working remotely, migration has been extremely smooth."
"Our clients don't want problems, they want solutions," Peacock mused. "Of course COVID-19 made the task more difficult but we were able to maintain our high standards and deliver this complex and demanding project with no adverse impact on the client. Our philosophy throughout has been to work quietly and effectively in the background so that Henk and the Fox Sports Netherlands team can focus their energies where they are most needed."
Photo credit: Yoeri Bos