Red Bee pulls R&D together under Red Lab brand and opens first facility
Red Bee Media has announced that it is pulling its R&D departments together under the banner of Red Labs and is planning to open facilities around the world. The first of these new facilities has opened in Red Bee's hub in Broadcast Centre, West London.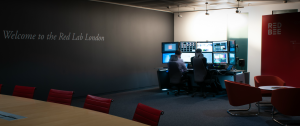 Red Lab London houses a private cloud platform for remote testing, as well as meeting and collaboration space for broadcast and network engineers and solution architects, an approach to R&D that led to the creation of the world's first software-only playout deployment.
Additional Red Lab facilities are due to be opened in Sweden and the Netherlands during 2019.
Richard Cranefield, head of portfolio, playout, at Red Bee Media, told SVG Europe where he sees the company's R&D moving next under this combined approach: "The creation of dedicated Red Lab environments within our international hubs, builds upon the operational collaboration that we have already established through years of business transformation. It is a part of our desire to foster a more pro-active approach to research and innovation.
"By creating distinct spaces for innovation, and then connecting those spaces together, we are enabling greater levels of collaboration between teams that are geographically separate and allowing Product and Engineering managers to foster an environment of experimentation.
"We are able to take ways of working like DevOps, previously only enjoyed by our OTT development team, and apply them to all of our services including playout and media management," continued Cranefield. "Through the creation of our Red Lab environments our customers will gain access to greater insights into what is possible with emerging technologies and a forum to discuss the use of those technologies to add value to the services we offer."
Although only opened officially in early 2019, Red Lab was already used late last year to test the control of remote platforms in other UK hubs and across mainland Europe. In testing customer demos, Red Bee Media was able to show full integration between media management, playout, distribution and OTT platforms, with content flowing between all platforms and across five countries. The Red Lab was also used while concluding testing for the world's first software-only playout deployment.
As to how pulling all R&D together under Red Lab will help both Red Bee and broadcast engineers generally, Cranefield said: "Research has often been done as needed for individual customers or within just one of our facilities. This approach works, but it results in some innovations being hidden or lost, particularly within an organisation of our size and spread.
"The opening of our first Red Lab is really the formalisation of how we have been working to deliver new services over the last 18 months where we've seen fantastic results through the formation of inter-hub cross-functional teams," Cranefield enthused. "Creating dedicated spaces where those teams can come together and continue to share ideas and innovate brings engineering creativity to the centre of our organisation rather than being something that happens on the fringes of our day to day work."
He went on: "The benefits come partly from creating the right spaces but also from having developed service delivery platforms that do not require dedicated hardware. Now that we can run even the most complex playout service from a software-only stack, our ability to replicate environments and test a new technical or operational thesis is hugely increased.
"In creating virtual copies of a production environment in the lab new configurations, workflows or builds can be tested by engineering and operations in a more interactive way before they are finally deployed. Previously broadcast engineers could only design platform changes in theory and then execute those changes on a live system. The risks associated with that way of working discourage experimentation. The Red Lab and its private cloud environment removes those risks," he concluded.
"We used to have engineers dedicated to each customer or project, but with the migration of all of our customers onto a shared software-based technology stack, we need to organize in a very different way. Red Lab London allows our multi-disciplinary teams to experiment and collaborate so that we can proactively drive innovation across our services," said Alex Dubiez, head of playout solutions.