Register now for SVG Europe's SportTech 2017 to find out about HDR, virtual camera technology and more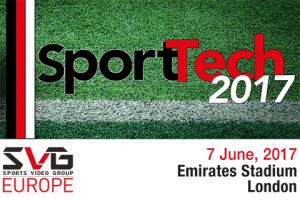 Demand is proving to be higher than ever for SVG Europe's SportTech summit, the latest edition of which will take place on June 7 at the Emirates Stadium, London. The rise of HDR, the possibilities afforded by virtual camera technology, and the preparations being made for the 2018 Winter Games will be among the topics under discussion during a characteristically busy day of presentations and panel sessions.
Following on from a site tour of the Emirates Stadium – best-known as the home ground of Arsenal Football Club – and a full networking lunch, the programme will commence with a keynote examining the current state of flux in the European broadcasting community. Both public and privately owned broadcasters are being affected, and this will be reflected in a specially written keynote from a leading UK-based media commentator.
Preparations for one of 2018's most important sporting events – the PyeongChang 2018 Winter Olympic Games – will be the subject of the second session, which will feature input from host broadcaster Eurosport. Acquired by Winter Games rights holder Discovery in 2014, Eurosport will, here share its production plan overview — along with sub-licensed free-to-air broadcasters — to deliver PyeongChang 2018 action on all screens across the continent.
'Making the Move the High Dynamic Range – and the many production- and technology-related challenges therein – will be the subject of a lively panel discussion, following which a special case on Timeline's IP-based UHD2 OB truck will bring the first half of SportTech to a close.
After a networking break, the programme will resume with an examination of virtual camera technology as seen through the eyes (and lenses) of FOX Sports in the Netherlands, which recently collaborated with Beyond Sports and ChyronHego to bring such a system to coverage of the Eredevisie league. The session will be helmed by Henk van Meerkerk, Head of Production at FOX Sports Netherlands, with contributions from Mark Bowden, Head of Product Management Sports at ChyronHego, and Nicolaas Westerhof, Lead Development, Beyond Sports.
The subject of a high-profile showcase at the Super Bowl in February, Intel's freeD 'Be The Player' technology is set to make an impact on the European market in the near-future – hence the inclusion of a bespoke case study at SportTech.
The programme will conclude with a session examining the ways in which social media and OTT are changing content creation, following which there will be an opportunity for relaxed networking over drinks.
Speaker details will be announced in the coming weeks. For a full programme, and to register, please visit https://www.svgeurope.org/sport-tech-europe-2017/full-programme/ – but please remember that registration (which is subject to approval by SVG Europe) closes on 2 June.