Register now for The Art of Replay: An EVS live sports production workshop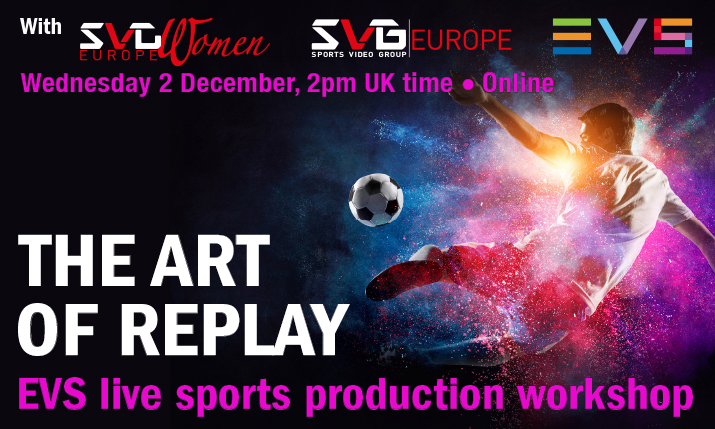 SVG Europe Women Virtual and SVG Europe are very pleased to present our first training workshop, which is being held in association with EVS.
The Art of Replay: EVS live sports production workshop, is taking place on Wednesday 2 December at 2pm (UK time). It will last approximately two hours.
This event is open to anyone within the SVG Europe Women Virtual, SVG Europe and SVG US community with an interest in learning the basic operational skills required to use the EVS LSM remote replay solution, as well as how it fits into the live sports production environment.
In this session you will learn:
The role of replay operations in a live sport production environment
The role of different crew members in relation to the LSM replay operator
The responsibilities of the LSM replay operator in live sport productions
A demonstration of the main operations of the EVS LSM replay system including: how to play back; how to select the best camera angles; how to create clips; and more.
The session will be led by freelance EVS operator and editor, Jamie Benning, a highly experienced trainer who works in studio and outside broadcast live sport.
Benning has worked across all major European sports, from Formula 1, Formula E, and Premier League and Championship football, to the Goodwood Festival of Speed. In addition, he is an EVS trainer, and has recently taken on the role of Ambassador to EVS' new replay system, LSM-VIA.
To find out more and to register visit: The Art of Replay
---