Remote manufacturing, cloud and IP: EMG Italy CEO Claudio Cavallotti shares his 2023 strategy
In January 2022 Euro Media Group (EMG) announced the formation of EMG Italy from the merger of three companies: 3Zero2TV, Netco Sports and Global Production. One year on, SVG Europe speaks to Claudio Cavallotti, CEO of EMG Italy, to find out what's been happening and what the company's plans are for 2023 and beyond.
What changes have you seen since the formation of EMG Italy?
The merger of our three reference companies in Italy made it possible to group specialised skills in precise and contiguous segments: from studio productions and the production of cutting-edge live graphics with virtual reality, artificial intelligence and digital solutions, to our fleet of state-of-the-art mobile galleries for multi-camera production in HD, UHD-HDR and 4K.
This convergence of professionalism, experience and innovation has allowed us to take a leap forward as a complete ecosystem and to offer EMG Italy to customers in a co-ordinated manner, both in the Italian and wider European markets.
This allows us to offer customers high-quality services to produce, improve and manage content, and ultimately provide viewers with enhanced experiences.
How has the company philosophy evolved since you took over the reins of the Italian division?
Since I became director of EMG Italy, we have gone through an initial phase of adjustment; the merger has been very demanding. Only now, months later, are concrete results beginning to be seen. There have been many changes to the setup and others are still in progress.
We have worked on the entire organisational structure and streamlined our operational paths. On some issues we have even had the courage to make U-turns, such as with the closure of the Turin office to focus staff on key tasks and not duplicate their efforts.
Today we are made up of more than 100 people and we undoubtedly consider ourselves a large company, both in terms of size and prestige; part of an international group that includes thousands of professionals.
All our initiatives aim at further improvement in two directions: profit margins, even if the Italian market is challenging; and the quality of our work.
The idea, then, is to streamline structures and procedures to benefit customers?
Yes, we have avoided needlessly duplicating production structures and focused on specialising skills by segmenting and concentrating activities in the Milan Cologno production centre. The recent sale of the 3Zero2 production centre also helped us to achieve this. By grouping and centralising technology and means of production, we can approach the market in a more streamlined way and offer ourselves to a more international clientele; we can also ensure staff work smartly and are more operational, streamlined, modern and fast.
Are there any developments in terms of customers and new technologies?
Basically, we are dedicating even more time and energy to the big players, such as Amazon, Discovery, Dazn, which are managed within EMG Italy but also at a supranational level with the help of the group, as is the case with Infront and Sky. We have also developed a somewhat different strategy and vision for smaller clients, based on systems suited to the market in terms of cost/performance.
Increasingly in harmony with the international group, we are expanding in areas such as remote production. Much of our interest is also aimed at IP and cloud infrastructures, to which we are dedicating more and more energy, especially with our proprietary system diPloy. We have already been using diPloy for a couple of years on big events: it was used at the multi-sports European Championships in Munich last summer and at the 2022 edition of Roland Garros, and in the future we will also be able to use it with other customers. Among other things, it is due to be used on the Alpine Skiing World Championships for Infront in Courchevel-Méribel in February.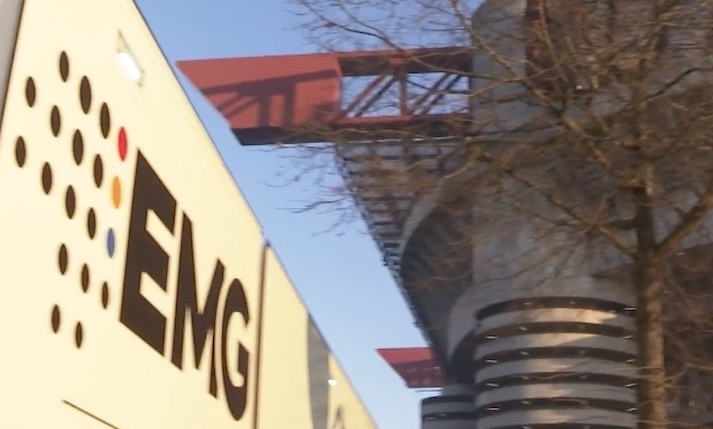 So EMG Italy is increasingly integrated into the group's operational and strategic landscape and into an even more international market?
Of course. CEO Shaun Gregory has brought better co-ordination to all countries, with new agility and a willingness to help each other, both at a business and a technological level, to the benefit of all. At the group level, the countries are becoming more and more united, with increasingly similar profiles.
Much has been done regarding internal communication, operational co-ordination and more in-depth control, both for the technologies to be adopted and for revenue. EMG Italy is also adapting to international pricing policies with rates more similar and consistent with the wider European market.
Our idea is to raise the level of the market while trying to please and get everyone to agree – customers and employees – and at the same time respecting margins.
Are there any future plans for EMG Italy that you're able to reveal?
As always, we are active on many fronts, but of the projects I am particularly proud of, I would like to mention an agreement for the production of the LBA basketball championship for Eleven Sports. This is a three-year agreement and production will be entirely remote, not only for the television production part but also for remote centralised referee control or instant replay: all signals from the fields will converge in the Milan Cologno Monzese hub.
Other important commitments in 2023 include the European Volleyball Championships for Infront, which will be played between August and September, and the Master Control Room which will manage the live streaming and international distribution signals for the International University Sports Federation (FISU) over the next five years.