Remote production is the success story of 2020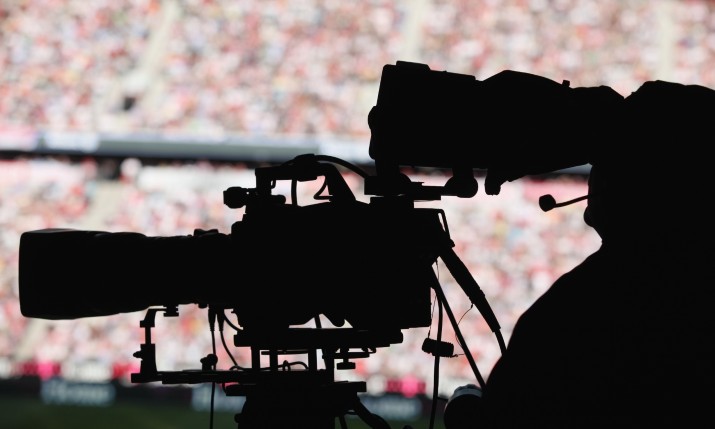 By Ed Tischler, managing director for UK and Europe, Gravity Media Group
Since the first lockdown was announced earlier this year, we have seen some spectacular examples of creativity, ingenuity and speed in terms of the use of remote production. Remote production has rapidly evolved to the point where it has become the tech buzz word of the year. Whether you are talking about decentralised remote production, at-home remote production or centralised remote production – or a combination of all of those – it is the technology that sports broadcasters have pinned their businesses on over 2020.
Remote production has been a growing influence in the sports broadcasting world over the last three years. The 2018 World Cup was a real turning point in the use of the technologies that make this way of production a reality, with live feeds being sent across the planet using the public internet and those edited feeds going out to viewers with very little latency.
Since then its use has flourished, but still tentatively; remote production, we now know, has its uses but has its costs as well, connectivity being the main expense and, in many regards, the key risk.
Caution to the wind
However, the pandemic we are now in has forced sports broadcasters to throw caution to the wind in order to get content on air. This has been the year of experimentation and development for all of us.
Providing locked down sports fans with something to watch, allowing them to connect with each other and escape from the worries that the pandemic has bought along with it, has been the priority. And it has been done with aplomb.
Because of remote productions – whichever form they may take – kit sent out on location today is often more versatile and more intelligent, while the production quality of content for broadcasters is still pushing the boundaries of what is possible to keep those sports fans satiated.
There's a relentless drive for efficiency, content is being delivered and consumed in ever-more innovative ways, and our clients' customers are looking for increasingly immersive experiences.
Successful remote productions
We have been able to work on a large number of successful remote productions in recent months, which we have helped facilitate and run smoothly.
Most recently we have been working on the Supercars Pro Eseries. The Eseries is took place again on the iRacing platform, running over six weekly rounds until Tuesday 1 December 2020. It was broadcast live on Fox Sports, Kayo Sports, and Supercars' Facebook, Twitch and Youtube pages.
Drivers at home had their own gaming PC's connected to their internet, which was gated through a centralised PC. Viewers were able to see driver's live action and reaction shots as the drivers also had an alternate camera set up at home so they could funnel this through Zoom.
As the Supercars technology provider, Gravity Media's Australian operation provided all of the studio and facilities solutions. Meanwhile, the host and talent was based at the Fox Sports Studio in Melbourne and was connected to the Gravity Media control room at The Production Centre in Sydney with all cameras, audio and video feeds being transmitted between the two sites, via hi speed connectivity channels on dedicated private circuits to maintain security and integrity.
Gravity Media also supplied the control room at The Production Centre in Sydney with supportive engineering, audio, MCR crews, and has also created the full plan of networking distribution for all incoming and outgoing sources including the Fox Sports Studio in Melbourne, driver's computers and zoom cameras.
Five major tennis events
Another great remote production achievement for us has been the French Open. Having provided host broadcast facilities for the US Open in New York, the WTA Tour, the Western & Southern Open, and the ATP Masters 1000 in Rome, Gravity Media was also able to conclude a run of back-to-back work on five major tennis events with the French Open at Roland Garros.
The French Open's main draw went on air on Sunday 27 September and ran until Sunday 11 October. The Gravity Media team in France provided coverage for 12 of the outer courts simultaneously with three cameras on each court as well as the full crew including cameramen and directors.
The team supplied a flypack for the big screens of the stadium with two users using the referee video system. Altogether, 17 of the courts each had three conference rooms which the team supplied equipment for including four beauty cameras, two interviews with teams set up, and one interview with teams and a green screen.
We were also on air for France Televisions providing the RF coverage at the 124th French Open. The coverage extended the cameras' ability to travel around the four hectares of the tennis complex, but also have access to indoor areas, to capture the player's reactions from wherever they may be. For France Television, the Gravity Media team covered one court with four cameras, including two robotic heads, with Vibox solutions, replacing the old outside broadcast vans.
Gravity Media also helped the FFT to set up a studio on site and was on air for Eurosport with its Cube, taking pictures from France and other Eurosport Studios, and feeding them back to the Cube studio in London.
Meanwhile, the team at The Production Centre in London facilitated ITV's remote production of this year's tournament. ITV 4's daily output saw John Inverdale anchoring the coverage from our in-house studio alongside a wide-range of pundits, including former World number one Jim Courier contributing remotely via a wraparound video wall. ITV also used The Production Centre's state-of-the-art galleries and edit suites throughout the two weeks of Roland Garros.
Our defining year
When we pause to reflect on the past 12 months, it becomes apparent what an action-packed, transformative and defining year it has been for this industry. We have used technology in ways we would not have considered before, while pushing what we have been tentatively using for years forwards in giant leaps.
Looking ahead, 2020 and, most likely, at least the first half of 2021 will definitely leave a mark on how the sports broadcasting industry moves forward, thanks to remote productions.