Remote Production Unleashed: First speakers announced for 27 May event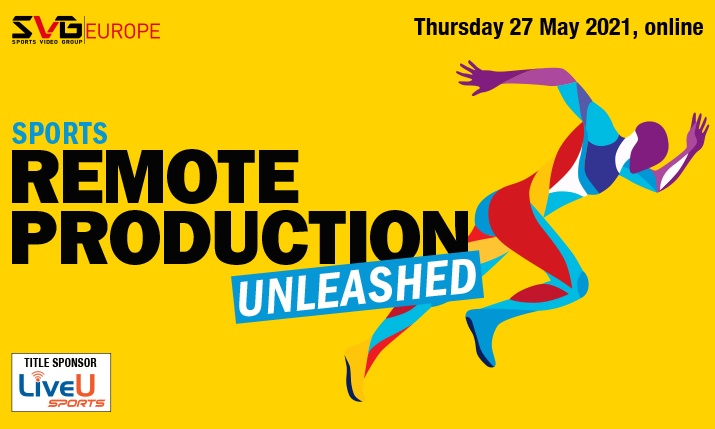 Speakers from Sky Sports, NEP, EMG, Infront, Eurovision Services and more will take to the virtual stage next week as part of SVG Europe's Remote Production Unleashed, sponsored by LiveU.
Taking place on Thursday 27 May, the specially convened online event will feature keynote interviews, case studies and panel sessions discussing the changes taking place in the remote sports production landscape.
Confirmed speakers include Casper Choffat, SVP of Global Product, NEP; David Harnett, Head of Operations, Timeline Television; and Eamonn Curtin, Deputy CEO, Telegenic. They will discuss what the OB unit of the future will look like and how its role in sports production will evolve. They will also consider how production service providers are embracing the centralised production facility concept, its benefits and challenges and the intricacies of facility design.
Also at Remote Production Unleashed, Amine Hafnaoui, Head of Operations & Engineering, Eurovision Services, Jack McGill, Founder & CEO of QTV Sports, and Christian Gobbel, Chief Technical Officer, Infront/HBS, will focus on the role that the cloud is playing in remote production today, how the tools can be used, their potential to transform sports production in the future, and more.
In addition, Jamie Oakford, Match Director, Sunset+Vine; Mandy Murray, Director of People Operations, Sky Sports; Phil Marshall, Director of Production, Sky Sports; and Kate Lamb, Technical Resource Manager and Technical Producer, will be talking about the real-world benefits (and challenges) of working remotely on sports productions from home and/or from a central location.
There will also be a Thought Leadership Perspectives panel featuring Olly Parker, Blackbird, Chief Commercial Officer; John Carter, Grass Valley, Director of Business Development – Live & Sports; Gareth Capon, Grabyo, Chief Executive and Phil Myers, CTO, Lawo.
The event will also include case studies from Lawo and Mavis Broadcast and a trial of SVG Connect, an attendee directory that will enable delegates to send text-based messages to each other before, during and after the event.
For more information and to register visit: Remote Production Unleashed
---