Replaying Moto GP highlights co-development benefits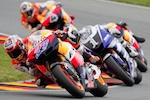 While it perhaps didn't go on to win, Grass Valley and Dorna Sports' entry for this year's IBC Innovation Awards for their jointly developed K2 Dyno Replay System highlights some of the benefits for production of hopping into bed with manufacturers – and vice versa.
The system is made up of two components: a server, either the K2 Summit production client or the K2 Solo media server, and the K2 Dyno Replay Controller (though in practice all of Dorna's K2 Dyno Replay Systems utilise the four-channel K2 Summit). The parameters are fairly exacting: over the course of a three-day race weekend Dorna will capture almost 30 hours of footage from around 35 camera inputs. Somewhere between 30 to 50 replay clips are generated per controller per race, which works out as 1500 to 2000 per day.
The system's now in its second season of Moto GP and, as a slightly jet-lagged Sergi Sendra says from Spain in the gap between the Japanese and Australian races: "One of the key matters in our relationship is that we're not using this in a laboratory where you get to spend days and hours on something. Anything we do we are doing live."
The systems are split between the two main trucks that Dorna uses at each race – the Track Feed truck and the International Feed one – with additional links via an Apple Xsan to post and 15x FCP editing stations and a final system working in the Universal Broadcast Centre. For a more detailed description of the workflow head here to read Grass Valley's Application Note pdf.
What that pdf fails to convey, however, is the speed of evolution of the system and – buzzword alert – the symbiotic and synergistic way it has developed.
"We got to the latest version almost a year earlier than expected due to the fact that the manufacturer and the user have joined forces," says Sendra.
Indeed, Grass has just shipped v2.0 of the Dyno software and, according to the company's Charlie Dunn, the main factor in taking the software on a stage further was the feedback from the Dorna team that was busy out destruction testing it every race weekend.
"While I think 1.6 was a good product, 2.0 is a great product," he says. "The responsiveness and the speed of the operation was okay, but not something that operators didn't have to think about, so we almost totally redesigned the system to get that extra performance. Then there were a lot of things that they felt we could do better on, such as creating a playlist and highlights reels, making that simple, adding features for transitions and so on.
For Dorna, while Sendra acknowledges the risks of untried software, the relationship means that new features get added quickly (a recent request for graphic tools in the replays, which he describes as having "massive potential" was tested for the first time in Japan). And for Grass (which hopes to have that same feature out in the wider market in a couple of months) working hand in glove with such a high-profile production also makes sound business sense too.
"We've been able to secure a number of high end sports production opportunities on the back of our work with Dorna," says Dunn.