Research: Global eSports revenues to pass $1bn in 2020, viewership to hit 495m
LoL World Championship was most watched event and Overwatch League led all leagues in 2019
Global eSports revenues will pass the $1 billion mark in 2020, according to the latest Newzoo Global Esports Market Report. The report expects the sector to generate $1.1 billion this year (not counting advertising-platform revenues), up 15.7% from $950.6 million in 2019. In addition, Newzoo projects that the total eSports audience will grow to 495.0 million people in 2020, up 11.7% year over year.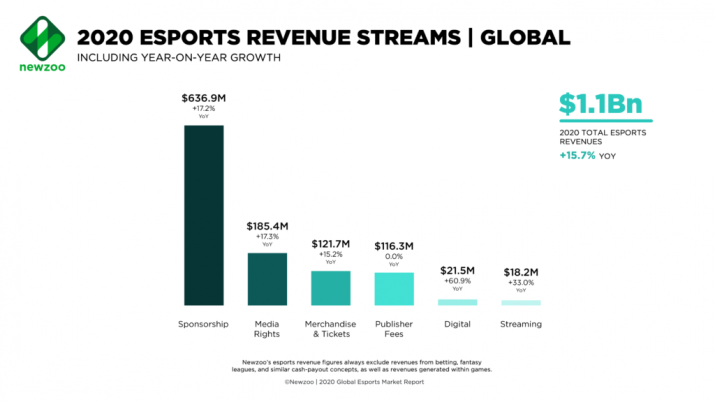 According to the study, the highest-grossing esports revenue stream worldwide in 2020 will be sponsorship at $636.9 million (up 17.2% from 2019), followed by media rights at $185.4 million (up 17.3%), merchandise and tickets at $121.7 million (up 15.2%), publisher feeds at $116.3 million (even with last year), digital at $21.5 million (up 60.9%), and streaming at $18.2 million (up 33%).
An important note on this year's study: although advertising was previously one of the major revenue streams in Newzoo's model, the updated model used for the 2020 report no longer includes it. Click here for more on Newzoo's revised methodology for this year.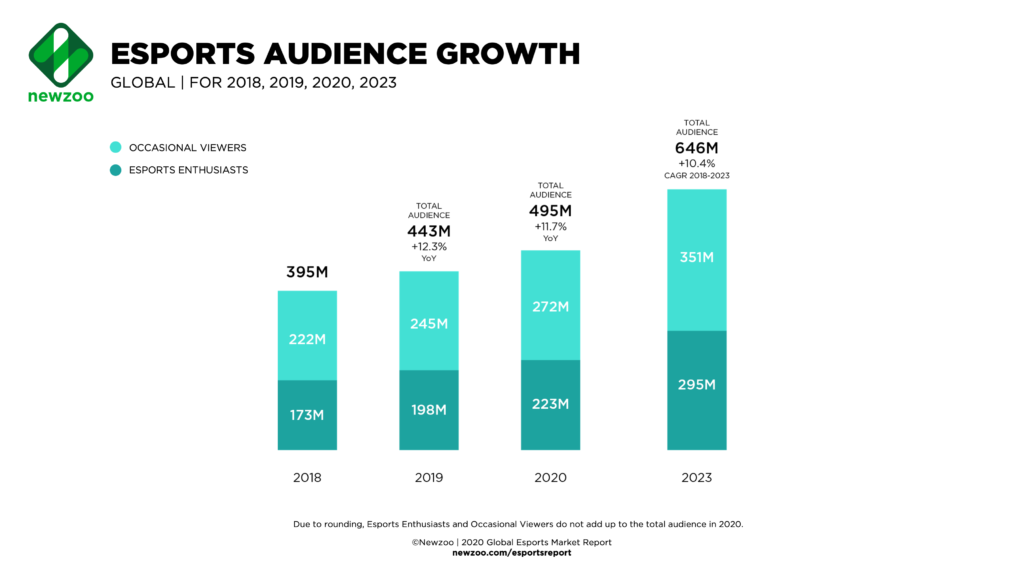 The eSports audience will grow to 495.0 million globally in 2020, with esports enthusiasts accounting for 222.9 million (up 25 million year over year) and will increase with a CAGR (2018-2023) of +11.3% to 295.4 million in 2023. Meanwhile, the number of global Occasional Viewers will hit 272.2 million in 2020, up from 2019's 245.2 million and will grow with a CAGR (2018-2023) of +9.6% to 351.1 million in 2023.
Other highlights from the report:
The League of Legends World Championship was 2019's biggest tournament by live viewership hours on Twitch and YouTube, with 105.5 million hours.
The Overwatch League was the most-watched league by live viewership hours on Twitch and YouTube, generating 104.1 million hours.
The two fastest-growing esports revenue streams are new categories in Newzoo's report this year: Digital, with a CAGR (2018-2023) of +72.4% (compared with sponsorship's +16.6%), and Streaming, which will grow to $31.6 million in 2023.
China now accounts for the largest share of the revenues with $385.1 million (35.0% of the global total), followed by North America with $252.5 million and Western Europe with $201.2 million in 2020.
China will be host to the largest eSports audience with 162.6 million in 2020, followed by North America with an audience of 57.2 million.
In the past 12 months, mobile eSports has seen a huge spike and is expected to continue to increase, especially in Southeast Asia, India, and Brazil. Viewership jumped from 15.3 million hours in 2018 to 98.5 million in 2019, an increase of more than 600%.
YouTube is the main platform for mobile eSports, whereas games like PUBG Mobile and Garena Free Fire are leading the charge in the rise of mobile esports.
Last year, there were 885 major eSports events that the global audience could attend. Together, they generated $56.3 million in ticket revenues, up from $54.7 million in 2018.
In 2020, 2.0 billion people will be aware of eSports worldwide, an increase from 2019's 1.8 billion. China will continue to be the country/market that contributes most to this number, with 530.4 million esports-aware people.
CLICK HERE to subscribe to the full report.