High appetite for risk but increased levels of imposter syndrome in first Rise Women in Leadership Report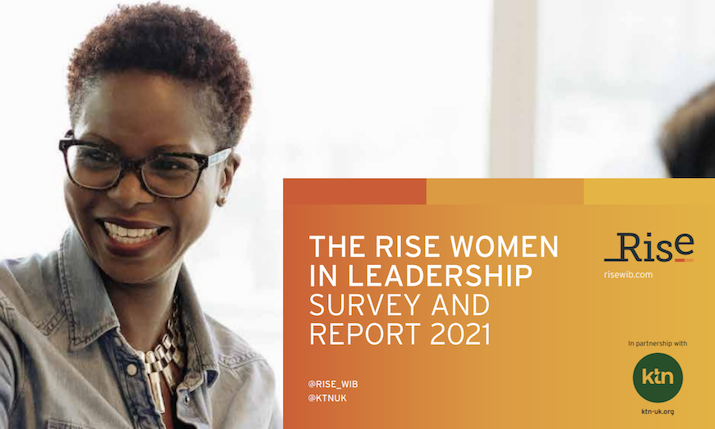 Rise, the advocacy membership group that supports women from all backgrounds working in the broadcast technology sector, has released the Rise Women in Leadership Report in partnership with KTN, looking at how women reach leadership positions across the industry.
More than 120 women took part in the survey, sharing their experiences of issues including imposter syndrome, risk-taking and mentoring. The aim was to gather information on a typical career trajectory, identifying those trends and commonalities between women and leadership roles.
Experience not necessary
The research uncovered a number of key findings. The majority of women entered the industry at entry-level, regardless of their age, and had 10 years or less of work experience before reaching senior level. This suggests experience is not necessarily the most important element in progression in broadcast technology, and that other elements beyond experience and age play a role.
Some 36% of respondents frequently changed roles, either within or between companies, and almost half had moved regionally (27%) or internationally (22%) for career reasons. Younger or newer workers to the sector were found to be much more likely to move roles frequently, while workers who have been in the industry for 26 years and above are far more likely to identify as having stayed within the same organisation for longer. This raises interesting questions about the future of work and younger workers, who may choose to change roles more frequently, and what this will mean for their leadership opportunities. As the report states: "We must ensure that senior roles are awarded based on performance and talent, rather than length of service."
Interestingly, 66% said that their risk appetites were of a high level – four or five out of a possible five – something that may indicate that a higher risk appetite assists in achieving more senior positions for women in the sector.
The impact of mentoring on career development was also considered and it was found to be significant. While 57% of respondents said they had never had a mentor, 30% of those who had been or were currently being mentored had sat at board level. Of the women reporting they had had more than one sponsor, 52.38% have sat on a board. It also found that mentees are promoted five times more often than those without mentors.
Imposter syndrome
Some 75% of women questioned said they had experienced imposter syndrome, although those who identified with the highest level of risk appetite reported that this was not something they had experienced. Women of colour, especially black women, as well as the LGBTQIA+ community are most at risk of experiencing imposter syndrome. When looking to encourage senior leadership qualities and confidence, the report suggests companies should look to support those who experience imposter syndrome in overcoming it through mentoring, learning support programmes and more.
It was also noted that women continue to carry out the majority of caring responsibilities, with only 12% of respondents saying that they had shared parental leave with their partner. The culture of a company has an important role to play in making sure this doesn't negatively affect women and to reassure them that there will be no negative repercussions from taking leave for parental or care reasons. Positive steps to take include offering shared parental leave, flexible/home working and childcare in the office.
The report also asked a number of more open-ended questions to allow respondents creative freedom in their replies. This included asking what personal traits have helped respondents advance, what the biggest factor for their career success has been and what may have held them back.
Top personal traits cited included 'perseverance', 'work ethic' and 'determination', while the biggest contributing factor to success were 'hard work', 'abilities, 'opportunities' and 'risk'. When asked what had held them back, frequent responses were 'unconscious bias', 'lack of support' and 'bad management'.
A number of recommendations were made throughout the report to increase diversity in the sector and to ensure women are supported to reach leadership positions. This included encouraging companies to avoid bias in their hiring processes, through fair advertisement and the utilisation of recruitment tools such as Gender Decoder; providing work experience and career talks to support the next generation; and ensuring that workplaces suit millennials and Gen Z and provide the opportunities for progression needed to retain this talent.
It also highlighted that offering flexible working, shared parental leave and examining company culture are crucial in ensuring carers are not discriminated against and suggested looking to the longer periods of caring leave that are common in North America as an example. In addition, mentoring must be inclusive; mentors must have had inclusive training, including in the use of inclusive language. They should also reflect on their own experiences and privileges/lack of privileges, and ensure they adjust their mentoring style to suit each mentee. Mentors should come from a wide range of backgrounds and mentoring across age ranges and reverse mentoring should also be considered to ensure the widest range of engagement.
Finally, training must be physically and mentally accessible with different learning styles also catered for.