Ross Video and Cisco demonstrate virtualised news production
Ross Video and Cisco have announced the availability of a joint whitepaper at NAB New York, entitled 'Newsroom in a Box… in a Data Center', which showcases a virtualised news production Proof-of-Concept (PoC) that the companies produced together.
The PoC successfully demonstrated how a workload that is formally defined in human-readable text files can be transformed into both a Cisco Cloud Center GUI for control, monitoring and life-cycle management; and a Ross news production workflow comprising OverDrive (automation), XPression (graphics), Inception (news authoring), and Streamline (MAM).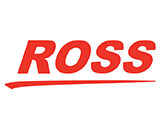 The end result was 14 rack units of Ross gear virtualised into two rack units of Cisco's Unified Computing System (UCS) with a workflow that looked and behaved exactly like a non-virtualised newsroom production system. The key highlights from this whitepaper will be presented in a jointly hosted webinar on November 16 at 11am ET.
"The promise of virtualisation including increased equipment utilisation, flexibility, and resilience is undeniable," stated John Naylor, Technology Strategist, Ross Video. "Our virtualised newsroom PoC with Cisco highlights that a dual technology solution where data center technology combines with SDI infrastructure is the next practical step for most broadcast operations today."
"Our work with Ross Video to produce and present a cloud-based newsroom workload demonstrates our commitment to driving innovation in this industry," said Roger Sherwood, Director of Business Development, Service Provider Business, Cisco. "Despite the challenges involved with virtualising live video production, we are demonstrating that the cloud is well-suited to manage primary and secondary broadcast distribution today."
Ross Video participates in the Cisco Solution Partner Program.
Register to receive your copy of the whitepaper and to participate in the upcoming webinar.