RT Software offers Euro 2012 touchscreen rental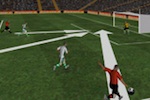 RT Software has partnered with Opta, U-Touch and HP to offer broadcasters the rental of a fully branded touchscreen-based studio analysis package for the UEFA Euro 2012 championships. According to the company's Mike Fredriksen: "This will dramatically reduce the resource, costs and time needed to deploy a touch-based solution for the Euros. The result will be an anchor point of the studio show with comprehensive information and analysis at the heart of it, all led interactively on the giant studio touchscreen by the anchors."
The system is based on RT Software's proven tOG-Sports telestration system, enhanced with a giant U-Touch screen and a set of graphics templates built specifically for the Euros. There is plenty of flexibility in the graphics look and feel and included in the price is customisation of the templates into house style.
"Ease of use has been made a priority, with particular attention paid to the data required for a comprehensive analysis of the tournament," says Fredriksen. "To this end we have partnered with Opta to offer a "one stop shop" integrated package. The Opta data-feed will automatically populate all required data fields thus reducing the graphics operator workload significantly – in fact this is effectively an automated system."
The graphics provided will cover all aspects of the tournament such as group tables, team and player statistical analysis, fixtures and results and more. As the solution includes a tOG Sports Pro licence, two important things are possible: match clips and live presenter telestration is possible on the big screen in the studio; and an operator can use the system off line to create analysis clips.
Video clips can reside with the VT Operator on an EVS or K2 video server, or they can be loaded onto the local hard disk of the PC supplied.
Included are the expected group tables, results and fixture graphics, along with video clips and telestration tightly integrated into the solution. Naturally HD SDI output of all graphics is included, this is based on a broadcast system already on air with broadcasters around the world including BSkyB, ESPN, Fox, BBC and more. And, acknowledging that one size does not always fit all, the package can be tailored to meet specific requirements such as bigger screen, iPad control, specific graphics etc.