Safety first: Ekstraklasa Live Park's Marcin Serafin reveals rules and regs for broadcasting live matches from Poland
As Poland's Ekstraklasa begins training in preparation for the resumption of games from 29 May, the league's production company, Ekstraklasa Live Park, has similarly been preparing itself for the much-anticipated return to broadcasting of live matches.
Ekstraklasa Live Park is the only production crew allowed to film the Polish matches, which will be broadcast by rights holders Canal+ and TVP, as well as for Ekstraklasa's OTT streaming platform, Ekstraklasa.tv, which will enable viewers outside of Poland to see live games and highlights packages.
Marcin Serafin, chief operating officer at Ekstraklasa Live Park, spoke to SVG Europe about how the production team has planned for the return to live broadcasts in light of the COVID-19 pandemic.
Serafin commented on how he feels about Ekstraklasa starting back to play live matches again, when so many leagues are still wary of this due to the coronavirus pandemic.
"Returning to playing football is a return to normalcy, and to normal everyday life," Serafin explained. "I'm convinced that every league would want to start playing again. Unfortunately, the situation of this pandemic is on different levels in different countries. Ekstraklasa along with PZPN (The Polish FA,) submitted a return-to-play plan to the Government and the Ministry of Health, which was accepted. Given that behind that decision are mainly doctors, we trust them, and we believe we'll safely go through this all together."
Working around the clock
Ekstraklasa Live Park has been working around the clock to ensure it is ready to cover Ekstraklasa matches, which will begin with a game between Śląsk Wrocław versus Raków Częstochowa (Canal+ Sport / nSport+).
Serafin commented on the process the production company has been following to prepare for the first match: "Currently we're working in several areas. Along with Ekstraklasa we're working on creating new Competition Regulations which are adapted to the current situation. One extremely important document will be regarding our own internal procedures at Live Park, about organisation of work at stadiums. Under the supervision of Professor Krzysztof Pawlaczyk we created a set of rules, which every employee from the TV production team will have to follow."
Professor Krzysztof Pawlaczyk, member of the medical commission of the Polish Football Association and Ekstraklasa medical expert, has been the key figure in developing and approving Ekstraklasa Live Park's Competition Regulations.
Serafin went on: "Due to obvious reasons, our own actions in recent weeks are limited. We're concentrating on work done at the office, so we can be completely ready when the season starts. Unexpectedly, there is a lot of work since a lot of regulations and rules which were previously in place have to be done from scratch."
Zoned out
The most important of the new regulations is the division of stadiums into special zones. Stadiums are being split into four key zones, with Zone 0 being the locker rooms, the tunnel, technical area (benches) and space around the pitch for players, coaches, referees and Ekstraklasa Live Park staff (the latter are allowed pitchside only in Zone 0), Zone 1 being the TV compound and TV tribune (main camera positions, commentary, tracking and stats positions) for Ekstraklasa Live Park and broadcaster staff only, Zone 2 other stands, and Zone 3 outside the stadium and stands.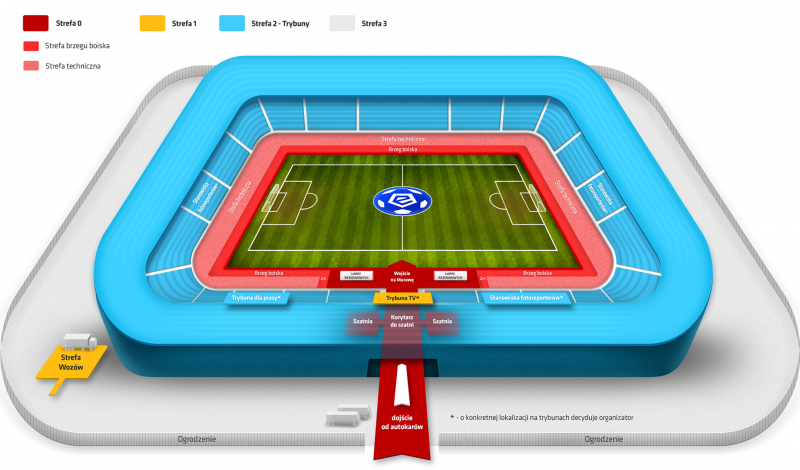 Everyone in Zone 0 and Zone 1 must undergo isolation and coronavirus testing. Also, an important point is that people with identifiers assigning them to a given zone area will not be able to move to another sector.
On how Ekstraklasa Live Park is planning to film live matches while maintaining staff safety, Serafin said: "Most importantly, every Live Park employee, along with freelancers, is currently in isolation. When that time passes, everybody will get tested for coronavirus."
Currently around 300 Ekstraklasa Live Park staff are self-isolating in preparation for the COVID-19 test that will see them getting back into stadiums.
"Additionally, each day [during the broadcast period], everyone has to fill out a medical questionnaire, and that will have to be done every day until the season is over," continued Serafin. "Each questionnaire is reviewed by a doctor who will decide whether that person can return to work or whether additional tests are needed. Every employee will have to wear gloves and surgical masks, and ones working directly on the pitch will wear FFP2 masks."
Creating great viewer experiences
The viewer experience is still paramount for Ekstraklasa Live Park. This means the technological set up for broadcasting will remain virtually identical to prior to the COVID-19 pandemic, to enable viewers to get the most out the matches.
Said Serafin: "Nothing will be changed. We're staying on the same path as before."
This includes camera positions, which are set to remain basically the same, Serafin stated: "To prevent random contact with the players, we decided to leave out the pitchside halfway camera, and the steadicam. However, out of respect to our broadcast partners – Canal+ and TVP – and to our fans, we will not be minimising the use of cameras at games.
"What's more, during each game produced in UHD HDR (three games each match week,) we will add an Ultra Slow Motion camera, and the Antelope Super Slow Motion Camera on Polecam."
In July 2019 Ekstraklasa Live Park with Ekstraklasa launched its own OTT service, Ekstraklasa.TV. The app and the service (also available on the desktop) is available abroad, where viewers can watch all games live. Coming up from 29 May, Ekstraklasa.TV will also show the highlights of each match, while all of the best goals and moments can also be seen on the official Ekstraklasa YouTube channel.
Said Serafin: "We place great emphasis on these platforms. We're hoping that the number of fans who want to watch Ekstraklasa matches will increase in the near future."
Operational changes for safety
From travelling to work to being on site, the list of regulations to maintain crew health and safety is thorough and precise. Serafin said: "Most importantly, we place great emphasis on the practice of hygienic and safety procedures. That's the most important issue for us today."
Everyone on site must wear as a minimum a surgical mask and disposable gloves, while pitchside camera operators must also wear FFP2 masks. Also, regular ventilation of closed spaces and cleaning of areas and equipment is outlined in the regulations.
Additionally, the composition of the implementation team is permanent for each match week, so staff are not able to rotate between teams and OB trucks.
Inside the OB trucks hygiene will be paramount, Serafin noted: "We reduced the number or workstations. Some have been completely removed, and others have been moved to different rooms, so that there are as few people as possible in one area.
"The equipment will be disinfected every time after each installation, and after the game. Additionally, each operator, and everyone working in the OB van, will have to disinfect their workstation. Everyone in the OB van will also have to work in gloves and surgical masks," he went on.
Also, LED installation must be completed six hours before the start of any competition, and camera installation three hours before.
After each match, press conferences will be closed to external media and will be held in the form of television broadcasts, with the possibility of journalists asking questions through club spokespersons.
Up to 15 journalists will be able to enter each meeting of PKO Bank Polski Ekstraklasa. Special places will be designated for them outside the zones in which persons protected by isolation can move.
In addition, beyond this limit, television rights holders and representatives of radio stations appointed by Ekstraklasa or the individual club, as well as photojournalists will be able to enter matches, with the latter limited to 10 people per match.
Back to work
Everyone will be watching Ekstraklasa Live Park to see how the crew manages the process of filming live matches. Serafin commented on how he feels about that: "We don't feel any pressure, nor that everybody will want to see what we do. Simply that after almost three months, we want to get back to work. From the medical and safety perspective we've done a great amount of very important work and today we know that we will have to work very carefully and diligently. We have to be ready for every scenario, but we also have to think positively.
"Work is a very important part of our lives. We have to live normally, and do so while following all of the procedures imposed by the Ministry of Health, and Ekstraklasa," he concluded.
The games of PKO Bank Polski Ekstraklasa will start on 29 May 2020 and end on 18-19 July 2020.
Key rules being used by Ekstraklasa to ensure the safety of production staff on site during filming include:
Prerequisite to broadcasting: 
All procedures are consulted and accepted by Professor Krzysztof Pawlaczyk
Almost 300 people are currently in isolation
Everyone will be tested for antibodies before the restart, and in case of doubt they will be directed to additional testing
Getting to stadiums:
Everyone must complete a medical questionnaire everyday
Staff booked into hotels must be in single rooms only
Use of public transport on the way to the stadium is forbidden
Bigger buses and coaches will be rented to provide more space for production and technical teams
Everyone using shared transport (bus or coach) must wear PPE at a minimum of surgical masks
It is recommended that every 90 minutes there should be 10 minutes to air out buses and coaches during travel
Safety on site:
At all times, from entering the stadium there is an obligation to cover the nose and mouth with masks and to wear gloves
Camera operators and technicians working on the pitch must wear FFP2 masks and gloves
Absolute ban on smoking and e-cigarettes
Staff are to avoid private conversations that may violate the principle of maintaining distance between people
Each bottle of water must be signed by the user
No external catering on site
Own meals and drinks should be consumed in isolation so as not to expose others
Inside OBs and offices:
Equipment and surfaces will be cleaned with disinfectant liquid before TV production begins, and before and after installation on the day of transmission
Everyone working in the OB must wear at a minimum surgical masks and gloves
The number of work stations in the transmission vehicle will be reduced to ensure adequate spacing
When possible, doors must be left open on OB vans and staff must avoid touching the door handles
Open access to stadium rooms should be maintained (doors open and barriers avoided, and therefore unnecessary hand contact)
Closed rooms should be ventilated three to four times a day for ten minutes at a time
Hands must be disinfected before and after each use of shared equipment, especially TV equipment
It is recommended that every participant in the TV production have their own headset
Every camera operator and everyone working on the cart is obliged to work in disposable gloves
Staffing per match week:
The stadium will be divided into four zones, with Zone 0 being the locker rooms, the tunnel, technical area (benches) and space around the pitch, Zone 1 being the TV compound and TV tribune (main camera positions, commentary, tracking and stats positions), Zone 2 other stands, and Zone 3 outside the stadium and stands
Everyone in Zone 0 and Zone 1 must undergo isolation and coronavirus testing
As a rule, the composition of the implementation team is permanent for each match week, without the possibility of staff rotation between teams and trucks
Each participant in the TV production is required to consent to body temperature measurements by the TV producer and/or the OB van manager