SailGP becomes first sport to integrate positive impact into its global league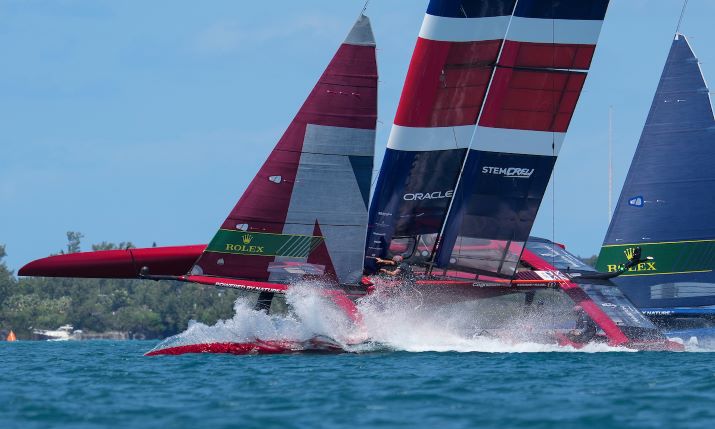 Climate-positive sport and entertainment property SailGP has launched the Impact League – a world-first, integrated initiative designed to make sustainability action essential to the fabric of sport and to accelerate the transition to clean energy.
Throughout SailGP's second season, spanning 2021-22, a second leaderboard will be created and the eight international teams that take part will be rewarded for the positive actions they make to reduce their overall carbon footprint and help accelerate inclusivity in sailing.
Each team will compete and be accountable across ten key sustainability criteria. These range from pioneering new technologies focusing on clean energy solutions and removing all single-use plastics, to diversity and inclusion and using the team's voice for good. Each team will be externally audited and an overall leaderboard created after each event. At the end of the season – which culminates in San Francisco in March 2022 – there will be two podiums, with the winning team crowned alongside the Season Champions and earning funding for its purpose partner, who supports and advises them throughout the season and is visible on the team's livery.
Sir Ben Ainslie, four-time Olympic gold medallist, Great Britain SailGP Team CEO and driver, said: "The introduction of the Impact League is a significant moment not just for sailing but for every sport. If we don't act now, all the amazing sport that gives us such joy, from the grassroots all the way to the top of the professional game, is under threat from the impact of climate change. I would like to see many more sports follow SailGP's example and make sustainability not just a commitment, but a fundamental part of the fabric of sport."
The Impact League has already been running over the first two events of the year in Bermuda and Italy and the current standings show the New Zealand SailGP Team leading the way.
Professor Richard Thompson OBE FRS, director of the Marine Institute at the University of Plymouth, said: "The health of the oceans are intrinsically linked to the climate of our planet. Right now, those oceans are facing unprecedented challenges on multiple fronts: from increasing temperatures and pH levels, to rising sea levels and coastal erosion; from plastic and other forms of pollution, to overfishing and biodiversity and habitat loss.
"The scale of this emergency is global and requires a co-ordinated effort to resolve – from national and supranational organisations to individual consumers. We need pioneers and ambassadors to help inspire, and one way to do that is by demonstrating the tangible changes they are making. I hope the Impact League will help embed sustainability and climate action at the heart of a global sport."
SailGP CEO Russell Coutts said: "The Impact League shows our commitment to racing for the future. It will ignite the competitive nature of our world-class athletes and reward success off the water – for impactful actions – in the same way we do on it. We believe in the power of sport for good and that sport has a responsibility to lead by example to inspire others to make simple changes for a better planet. Our commitment to sustainability is much deeper than words or promises, it's based on long-term, measurable action."
Niclas Svenningsen, manager of Global Climate Action at UN Climate Change, UNFCCC, said: "Many of the activities that bring us so much joy in our day-to-day lives are under threat from our changing climate. Sport is no exception, in fact it is one of the areas set to be worst affected. The Impact League is an innovative and inspiring solution-orientated approach from SailGP to deliver meaningful change and redefine what winning means in sport. I would welcome other sports to follow suit and establish impact leagues of their own to help sport be that platform for real change."
The Impact League was launched ahead of the Great Britain Sail Grand Prix in Plymouth, the third event in SailGP's second season. The nine-event championship sees eight national teams racing in coastal cities around the world, aiming to provide great sporting entertainment while at the same time having a positive impact for a better planet. After Plymouth, the next event is Aarhus, Denmark on 20-21 August before the league continues to Saint-Tropez, followed by Cádiz-Andalusia, Sydney and Christchurch ahead of the Grand Final in San Francisco 26-27 March 2022.