SailGP extends broadcast coverage to reach 175 territories in second season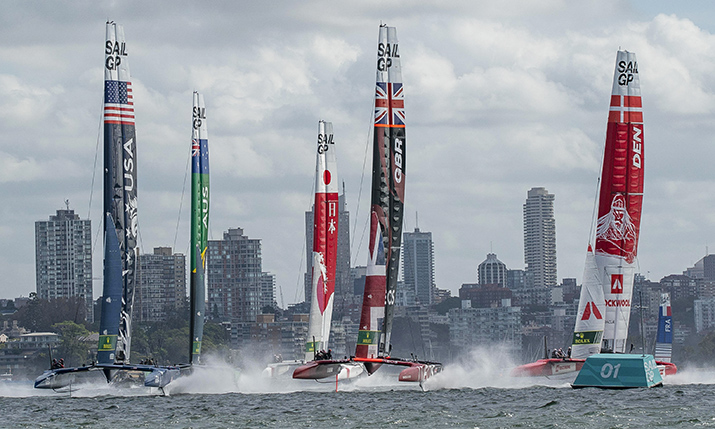 With the SailGP season opener less than a week away, the global championship has announced comprehensive broadcast coverage, with viewers in 175 territories globally able to watch the sport's pinnacle league in its second season.
Broadcasting of the event is said to feature the most immersive, multi-platform experience the sport has seen through its international broadcast feed, with new innovative and data-driven enhancements set to significantly expand on the content offering. New features include improved LiveLine-Fx 3D boundaries and augmented graphics, explainers for those new to the sport and enhanced on-board audio and camera feeds.
Real-time data analysis and team comparisons will be provided through SailGP Insights powered by Oracle. The broadcast will be co-ordinated through SailGP's remote production hub in Ealing, London, providing a solution that reduces SailGP's carbon footprint, making a significant contribution towards it being the first carbon positive sports and entertainment property and supporting the global league's #RaceforfheFuture goal to accelerate the transition to clean energy.
This season will see the world's best sailors, including Sir Ben Ainslie (GBR), Tom Slingsby (AUS), Jimmy Spithill (USA), Peter Burling and Blair Tuke (NZL), and Nathan Outteridge (JPN), battle it out on equal boats for the ultimate bragging rights and the sport's largest monetary prize of $1 million.
The action will be brought to life with a new presenting line-up. Aly Vance, a former pentathlete and versatile sports broadcaster, joins as on-water reporter for season 2; in the commentating booth is US sports announcer Todd Harris along with World Champion sailor Steve Morrison. Data insights and analysis will be provided by America's Cup sailor David 'Freddie' Carr.
Alongside the broadcast, the SailGP app will offer live feeds, fully customisable camera angles, the ability to switch focus onto the teams fans want and all the data they could need at their fingertips. Fans can even switch-off spoilers for when SailGP heads to different time zones.
In an effort to present the action of season 2 to an expanded global audience, SailGP has announced broadcast partners in key territories. CBS and CBS Sports has extended its deal following the inaugural first season and will showcase live coverage in the US and Canada on CBS Sports Network with highlights on CBS. Sky Sports will remain the home of SailGP in the UK and Ireland and will broadcast live event coverage in addition to regular highlights programming over the next two seasons. Fox Sports and Kayo App will continue to showcase live coverage in Australia. New for season 2 is the Kayo OTT streaming service and app, which boasts over 1 million subscribers and which will show all races live throughout the season on the new free-to-air service Kayo Freebies.
For fans in New Zealand, the racing has just got more exciting with the addition of two-time America's Cup champions Peter Burling and Blair Tuke to the league as co-CEOs and stars of the newly formed New Zealand team. The racing will be live on Sky Sport with multiple replays throughout the day.
In Denmark, TV2 Sport will feature live coverage and highlights for the next two seasons while Canal+ Sport will continue to provide live and delayed coverage for fans in France and other French-speaking territories.
With the first-ever Italy Sail Grand Prix Taranto on 5-6 June, Sky Italia will air the Italy Sail Grand Prix live and offer coverage throughout the season. Spanish fans can follow the racing live on TV3 in Catalunya with Spanish-language highlights on Teledeporte (RTVE). ServusTV will offer coverage through the commercial free-to-air broadcaster in the major European markets of Germany, Switzerland and Austria.
With the first ever Bermuda event kicking off the season, the island's main channel, Bermuda Broadcasting Channel, will feature live coverage of the two-day showdown and the full season.
Racing fans in Sub-Saharan Africa, the Caribbean and Southeast Asia are able to follow live racing on SuperSport, FLOW Sports and Fox Sports Asia respectively. Jiangsu Broadcast Corporation Sports Channel, Fuijan Media Group Sports Channel, Zhibo TV, Tencent and iQIYI will all have coverage available to fans across China. Coverage of SailGP will also be available through partners in Russia (MatchTV), Portugal (Sport TV), Malta (Go), Belgium (VOO Sport World), Sweden and Finland (Cmore Sport), Brazil (Band Sports), Central and South America (ESPN Latin America), Turkey (TRT) and Israel (Charlton).
SailGP will be available in-flight on Sport 24 and the broadcast will be streamed live on SailGP YouTube and Facebook pages where rights restrictions allow.
SailGP CEO Sir Russell Coutts said: "The success of our broadcast partnerships relies upon the distribution of a premium product that appeals to a wide range of people, so we have been working hard this past year to look at new ways that we can deliver our adrenaline-fuelled championship around the globe and create a better and even more innovative viewing platform through technology and innovation.
"We are delighted that SailGP will be broadcast in 175 territories globally this season – 30 more than last season – and with such a wide array of broadcast partnerships it truly highlights the appeal of SailGP and the eagerness to showcase these intense rivalries and cutting-edge boats to sailing fans and newcomers to the sport worldwide."