SAM to be merged with Grass Valley following acquisition by Belden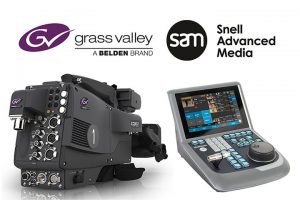 Newbury-based manufacturer SAM (Snell Advanced Media) has been acquired by Belden and will be merged with Grass Valley, SVG Europe can confirm.
The combined company will be known as Grass Valley, a Belden brand, with the SAM name to be retired. Many SAM products will retain their current brands, however.
No financial details were revealed.
Grass Valley president Tim Shoulders, who will lead the newly merged organisation, said: "With this investment Belden again demonstrates our commitment to the broadcast industry. Adding SAM's employees and products to the Grass Valley family extends Grass Valley's global reach, makes us more agile and provides even more domain expertise to enhance Grass Valley's industry-leading solutions in networking, news and live production and content delivery for broadcasters."
SAM chief executive Eric Cooney will stay on in an advisory role during the transition period. Further details on how the newly combined company will operate will be made available between now and NAB in April.
SAM was formed in 2014 following the merger of Quantel and Snell. It was backed by the private equity firm LDC that had owned Quantel since 2000.
Employing around 550 people, SAM designs and manufactures equipment and solutions for live production, editing and finishing, playout and delivery and infrastructure and image processing.
Canada-based Grass Valley designs and develops solutions and equipment, including cameras, for broadcasters and other media companies, covering live production, news, content delivery and networking. It was bought by Belden in 2014.
Belden is a US-based manufacturer of networking, connectivity, and cable products.