San Francisco 49ers stay on cutting edge of operations thanks to flexibility and commitment to storytelling
Robert Alberino Jr is a football lifer; dirtying his hands and knees not with a set of pads resting on his shoulders but, rather, the weight of a video camera.
Forged in the fires of the streets of Philadelphia and the studios of Steve Sabol, Alberino has forever altered the landscape of…ok, ok this might seem to be getting a little too dramatic, but Alberino wouldn't want it any other way. In a media era that seems to reward the churning out quantity, he remains a staunch disciple of the Church of Quality.
High-end storytelling rules the day, and that belief plays a major role in the direction of the video production group he leads as vice president and executive producer for the San Francisco 49ers.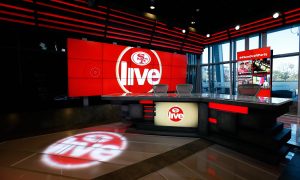 With a career that has seen him build up and oversee in-house media operations at the Kansas City Chiefs (2010-2013) and the Philadelphia Eagles (1997-2010) after cutting his teeth as a young editor at NFL Films (working under the late, great Steve Sabol), Alberino is a key figure in the history of the NFL video industry. He's seen the concept of team-produced media through from the days of its early infancy.
In fact, his roots at NFL Films have played an incalculable role in moulding the approach to video storytelling that he instills in his producers today.
"To this day, there is not a time where I don't think 'what would [Steve] do?'" says Alberino. "How would he create? How would be take music and emotion and cultivate this incredible product that we have? My entire philosophy…is all created based on what NFL Films would do. Not news and 'fast food' but filet mignon made with an incredible soundtrack and imagery. Storytelling."
It's the philosophy he's worked to instill in this organisation since he first came to town in the spring of 2013. The calling was to build up the 49ers in-house media operations all with the understanding that a brand spanking new stadium would soon be completed.
Today, Levi's Stadium is one of the top sports facilities in the country and his staff has grown to approximately 35 people strong. Featuring some key faces like director of game day production and broadcast operations Aron Kennedy, director of production Wil Blackwell, director of digital and social media marketing Meghan Ryan, and art director Aaron Llavore, everything from production, to digital media, to social media, creative, and marketing, all fall under his purview. Basically any piece of content that meets the eyes of a fan, is produced by his team.
"We believe that we are the direct connect to the fan," says Alberino. "We are the window to the world."
How flexibility keeps 49ers studios on the technological forefront
Alberino's approach to media and storytelling all needed to begin by establishing a solid technological infrastructure and anyone who has built out a major video facility gets it: you've got to make your one shot count because it might be the only one you get.
That's where Alberino called upon the help of Kennedy, a longtime friend and a former colleagues with the Eagles. Kennedy joined Alberino in the Bay in the winter of 2013. Together, with a robust budget, they laid the groundwork for what still keeps Levi's Stadium and  49ers Studios humming at a high level today.
For Kennedy, the key was to always keep his facilities nimble enough to meet the needs of any major
outside league or broadcaster that may want to push the envelope – be it WWE's Wrestlemania or the NHL's Stadium Series (both of which were here in 2015), CBS and Super Bowl 50 (which rolled into town in 2016), or the College Football Playoff National Championship Game (which just came through last month).
The technological key to 49ers Studios' success rests in its flexibility to accommodate future growth and its ability to welcome in those major outside events. That's anchored by the investment in and commitment to an infrastructure built around single-mode and SMPTE fibre.
"The vision to implement all of that back in 2013," said Kennedy, "was very forward thinking."
Today, 49ers Studios remains built around a baseband core with a conscious push to begin branching out into IP. The rack room inside the Levi's Stadium control room features an Evertz Magnum Unified Facility Control system (with Vistalink Pro for monitoring) and an Evertz EQX router. Just recently, the 49ers installed new Evertz EQX-IP cards (giving them 32 IPGs in and out) to support future IP-based workflows.
At this point, however, Kennedy acknowledged that it didn't currently make sense to go all-in on IP just yet, though the recent ratification of the SMPTE 2110 standard does have the industry moving in the right direction.
"We're not going to rip everything out and go all IP-based video at this point," said Kennedy. "It doesn't make any sense now. Maybe in five, six years when we re-do everything, maybe. I wanted to have that ability to add equipment that is IP-based instead of SDI-based. Now we have the best of both worlds."
While Levi's Stadium's videoboard is not a 4K screen, 49ers Studios has worked in some 4K for replay and high-quality archival content. The main control room has five Evertz DreamCatchers and a series of Sony-based gear that is very 4K friendly.
In addition to the Sony MVS 7000X production switcher in the control room, 49ers Studios has invested in a wealth of Sony cameras for both live in-stadium and field production use. The team has five Sony F55 cameras with BPU-4000s (which offer both 4K and high frame rate outputs), two Sony F55s with wireless transmitters from Wave Central attached, and three Sony F55s with Fujinon Cabrio lenses that are used for studio shoots and other ENG gathering.
Outside of the primary control room, elsewhere in the stadium, 49ers Studios also utilises a small studio for producing all kinds of content for its social media channels, digital platforms, and linear television partners. This studio is where the team's ability to turn small spaces into highly-flexible content machines really shines.
When Alberino first moved to the Bay Area to take on the task of building up the 49ers' video production operations, he spent many dinners at home drawing up the most ideal way to make the most out of a small corner of this new stadium that was being built.
What came to be looks like a classic television studio, but begin looking deeper under the hood and its versatility becomes clear. An anchor desk – with front-facing video screens – was developed by FX Design Group with LED lighting (for easy customisation) and the ability to separate it into two pieces for easy moving across the set. In addition, a large video screen behind it is built in approximately the same aspect ratio as Levi's Stadium main videoboard, but, instead, this screen can be split and slid around in five different pieces.
According to Alberino, the set can be positioned in a way where 49ers Studios has as many as seven different possibile shooting positions at its disposal. On top of that, the whole room is run off of a NewTek TriCaster and Blackmagic Design router that can all be packed up as a portable kit if the team ever so desired to take it all on the road.
49ers Studios also has another small building just off the team's practice field (SAP Performance Facility) adjacent to Levi's Stadium that they use for shooting everything from short interviews to videoboard hype videos.
"Players are coming right off the field and we can take them right inside," says Alberino. "We can just intercept them and it makes things super easy for us."
Converted into a sort of black box/soundstage, the building was remodeled with triple insulated walls (protecting against the noise of airplanes flying overhead from nearby San Jose International Airport) and also provides extra office and storage space for the staff. In a fun bit of history, the building is actually the former personal racquetball court of legendary quarterback Joe Montana.
Looking forward, 49ers Studios is also eyeing some offseason growth over the next couple of months that includes the integration of AWS Elemental encoders, Ross Video Xpression graphics technology, the previously mentioned IPG routing, and more. Despite being already more than five years old, Levi's Stadium has kept up as one of the top facilities in terms of cutting edge tech, largely thanks to the forward thinking of Alberino and Kennedy.
"Gear gets old fast. Shiny new toys get old fast," says Alberino. "We've tried to do a great job of evolving our control room and our facilities. "I hired the right guy. [Aron] is a stud. He works with vendors and has carried on relationships with them for more than two decades. To his credit, this is really his car. His maintains this car. He builds this car. And if he wants to put rims on his car or if he wants to put satellite radio in it, he's got to pitch that to me and I am then the conduit to get ownership to work on that."