Save the Date: Football Production Summit set for Allianz Arena Munich on March 22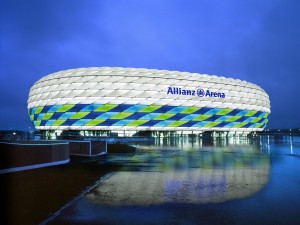 SVG Europe is delighted to announce that our flagship Football Production Summit 2017 will take place at Allianz Arena Munich, home to FC Bayern, on Wednesday March 22. SVG Europe expects over 150 senior professionals in football broadcasting, OBs, service providers, clubs, leagues and federations to attend our premier, agenda-setting football summit this year.
As is customary with SVG Europe events, there will be tours of the arena and a networking lunch provided before proceedings, with further networking opportunities for delegates and sponsors at coffee break and drinks at the end of the day.
Our editorial team is already well advanced in preparing top-level programme sessions for Football Production Summit 2017. Sessions will include a look ahead to preparations for the UEFA Champions League Final in Cardiff and the Women's EURO 2017 in the Netherlands; a special insight into the media operation behind the giant FC Bayern club; an examination of the 'one portal' platform that has been built for the English Premier League this season; a first-ever presentation concerning new workflows for cost-effective football production in France; how to make the beautiful game sound even better; and a cost-efficient IP remote production football case study from Belgium.
We look forward to bringing you full details of speakers and topics in coming weeks. For now, check your diary and circle March 22 for SVG Europe's Football Production Summit 2017 in Munich.
If you have a query regarding the programme agenda, please contact David Davies ([email protected]) or Fergal Ringrose ([email protected]).
If you are interested in sponsorship opportunities, please contact Chris Cope ([email protected]) or Clare Sturzaker ([email protected]).