Save the Date! SVG Europe's Football Production Summit set for 23 March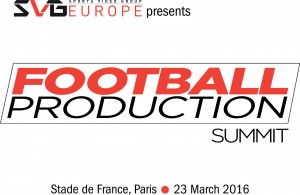 As SVG Europe prepares to get another busy year of sports technology summits underway on 11 February with the Sports Venue Technology Summit at ISE, the association is also able to confirm the date and location of its second event of 2016 – the Football Production Summit.
Football remains a major driver of sports broadcast technology innovation in Europe. A long-standing part of SVG Europe's annual events calendar, Football Production Summit is a unique forum for broadcasters, OB providers, federations, leagues and clubs to find out more about the specific events and technologies informing the way in which the sport is brought to viewers around the world.
Taking part at Stade de France in Paris on 23 March, the next Football Production Summit will give attendees a chance to learn about preparations for Euro 2016, as well as hot topics such as match-day acquisition, OB production, pitch-side innovation and studio content presentation for both top-end and lower-cost football shows.
The full programme will be published next week, but for now please ensure you mark 23 March on your diary!