Semi-automated offside technology to be used at FIFA World Cup 2022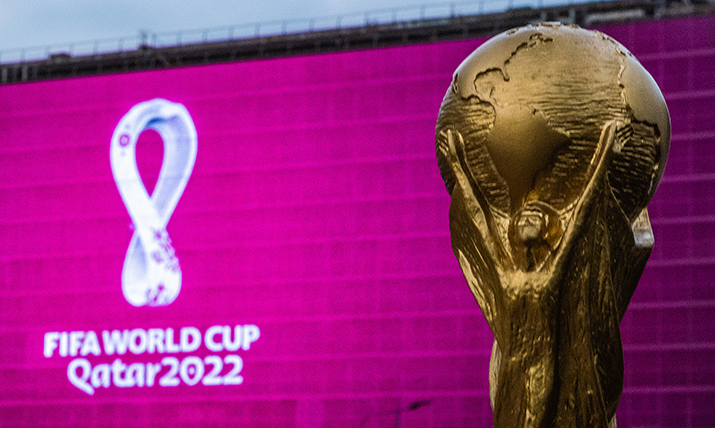 FIFA is to make use of tracking cameras and match balls equipped with sensors to provide semi-automated offside decision making at FIFA World Cup 2022 in Qatar, with the data and footage used to create a 3D animation that will be made available to FIFA's broadcast partners.
The new technology uses 12 dedicated tracking cameras mounted underneath the roof of the stadium to track the ball and up to 29 data points of each individual player's limbs and extremities, 50 times per second, calculating their position on the pitch.
In addition, the official Qatar 2022 Adidas match ball will contain an inertial measurement unit (IMU) sensor in the centre of the ball that will send positional data to the video operation room 500 times per second.
"By using the exact same data to create a 3D animation for in-stadium fans and TV viewers, fans will receive a quick and accurate visualisation of the offside situation."
The data from the tracking cameras and the match ball will be combined to provide an automated offside alert to the video match officials inside the video operation room whenever the ball is received by an attacker who was in an offside position at the moment the ball was played by a team-mate.
After the decision has been confirmed by the video match officials and the referee on the pitch, the same positional data points that were used to make the decision will be generated into a 3D animation to show the position of the players' limbs at the moment the ball was played. This 3D animation will then be shown on screens in the stadium and made available to FIFA's broadcast partners.
FIFA said the workflow of semi-automated offside technology and the connected ball technology have been successfully trialled at numerous test events and live at FIFA tournaments, including the FIFA Arab Cup 2021 and the FIFA Club World Cup 2021.
FIFA president Gianni Infantino said the system is the culmination of three years of dedicated research and testing.
He said: "At the FIFA World Cup in 2018, FIFA took the brave step to use VAR technology on the world's biggest stage, and it has proven to be an undisputable success. Semi-automated offside technology is an evolution of the VAR systems that have been implemented across the world.
"FIFA is committed to harnessing technology to improve the game of football at all levels, and the use of semi-automated offside technology at the FIFA World Cup in 2022 is the clearest possible evidence."
Johannes Holzmüller, FIFA director of football technology and innovation added: "As the video match officials will be quality-controlling these outputs, we still refer to the system as 'semi-automated offside' as the video match officials have to validate the proposed decision and then inform the on-field referee.
"By using the exact same data to create a 3D animation for in-stadium fans and TV viewers, fans will receive a quick and accurate visualisation of the offside situation. This process was developed with input from FIFA's Fan Experience Panel."