SIC picks Sony for IP-based production and cloud multiplatform delivery
Sony Professional Solutions is working with project partner Telefónica and other key suppliers to deliver core components of Portugal's first all-IP TV and multimedia production facility for commercial broadcaster SIC.
One of the earliest large-scale IP Live deployments in Europe, the all-new site is being constructed on the outskirts of Lisbon, with commissioning planned by the end of 2018. Scope of the project includes programme production, audio, intercom and other functions, plus the integration of Sony's Hive news system at SIC's Lisbon and Porto production centres.
Adopting an open IP approach at the facility allows SIC to route HDR-capable HD video plus audio, synchronisation and control data in real time over standard network infrastructures. The solution offered by Sony leverages the SMPTE ST.2110 suite of standards for interchange of professional media. This allows seamless integration between best-of-breed components and solutions from Sony and other hardware and software vendors.
Sony is co-ordinating with other key suppliers including Telefónica, being the main partner of Sony for this project, to deliver all elements of SIC's core IP infrastructure. The solution offered by Sony extends further to technical consultancy, engineering design, system integration testing and overall project management.
Sony is also providing IP-enabled hardware elements for this project. These include two XVS-7000 series multiformat video switchers and twelve HDC-1700 studio cameras, paired with latest-generation HDCU-3100 IP enabled Camera Control Units. IP control and configuration functions are handled by Sony's LSM (Live System Manager) software that's tightly integrated with Lawo's VSM Virtual Studio Manager platform, controlled by an intuitive touchscreen interface. After-care for switcher and LSM components is provided through Sony's PrimeSupport enhanced warranty service.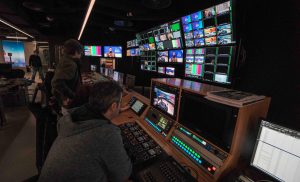 In parallel, SIC is upgrading its 24-hour news production capabilities with Media Backbone Hive, Sony's multi-platform networked news production system. Running on standard IT hardware, Hive allows journalists and editors based in Lisbon and Porto – or in the field – to create content for internet, social media and broadcast applications alike.
Sony's Hive delivers enhanced capabilities to share content seamlessly between regions and different platforms and meet the needs of audiences in today's fast paced digital landscape. As well as overseeing installation and staff training, Sony is providing PrimeSupport.
"This is what the future of television production looks like. IP gives us unparalleled flexibility and resilience to create better-looking content – faster and more efficiently, with wider creative possibilities. We have chosen Sony as a long-term partner to work with on this project, not only for the very high quality of the technology, but also because of the company's consultancy and professional services, which have been so important to us for delivery of this project," says Francisco Pedro Balsemão, CEO of Impresa Group, the mother company of SIC.
"Migration to IP is pivotal to the fundamental evolution of our industry," comments Olivier Bovis, head of sales, Sony Professional Solutions Europe. "As an active participant in SMPTE and other technical organisations, Sony plays a significant role in standardising the delivery of media content over IP networks. We are delighted to be working with a wide range of partners to create an open solution that allows SIC to enjoy all the benefits of an open all-IP architecture – today and tomorrow."