Single hybrid truck model keeps BT Sport at the forefront of live 4K/UHD productions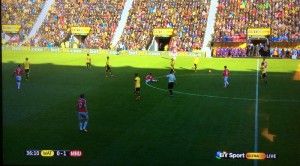 If you are looking for a critically acclaimed 4K/UHD live sports producer with an operations staff comfortably experienced in the format, you'll have to head across the pond to the UK.
With more than 100 live 4K productions under its belt over the past calendar year, BT Sport has established itself as a leader and (a description that BT Sport COO Jamie Hindhaugh particularly likes) a pioneer in 4K/UHD production. Over the past two months, the network has launched Europe's first live-UHD sports channel, BT Sport 4K/UHD, and has been honored for its work in 4K/UHD, winning the IBC Innovation Award in the Content Delivery division.
With all of that, one wouldn't have to work too hard to make the argument that BT Sport has established itself as the world's gold standard in live 4K/UHD sports production.
"We've enabled ourselves to get confident because we've got a long track record in it," says Hindhaugh. "4K is definitely now our preferred native form of capture for any live OB [outside broadcast] that we do in the UK."
The biggest change this season to BT Sport's 4K efforts currently is the deployment of a single-truck 4K/HD hybrid OB solution and its pairing with a next-generation IP OB truck as well. Both the 4K and HD productions come from the same truck, using the same production resources from inside the venue. The finished 4K product is then distributed to the home over IP.
"That combination is obviously adding complexity, but, at the same time, it is driving dividends around picture quality and workflows," Hindhaugh points out. "We are very proud of our 4K quality. We think it's the best that's available on the market."
The 4K/HD truck working the BT Sport catalogue of live productions is the new Arena OBX unit, which features Grass Valley 4K/UHD gear and a Cisco IP infrastructure. The truck houses Grass Valley's LDX 86Ncameras (it can support a 32-camera show) and is built around a Grass Valley Kayenne K-Frame production switcher with a pair of panels that are cross-compatible for repurposing. The truck also features two GV Convergent IP/SDI router-control and -configuring systems, iControl facility monitoring, Densite 3+ FR4 frames, and GV Node IP processing and edge routing platforms with Kaleigo KMX-4911 cards that enable expansion to 18×2 multiviewers. The IP capabilities of the truck are courtesy of a Cisco IP switch, with a core infrastructure of fiber running 10GigE.
BT Sport first used Arena OBX for coverage of the Liverpool-Leicester City match on Sept. 10. The match production was broadcast live to attendees at the SVG Europe Sport Production Awards, which took place in the RAI in Amsterdam during IBC 2016. To enhance the experience, BT Sport also bolstered the audio side with Dolby Atmos.
"What I found fascinating was [that], because of the Dolby Atmos sound, people were actually commenting more on the quality of the picture," says Hindhaugh. "I think it was because you got that complete, experiential feeling when you were watching with the advanced sound. It was fantastic."
A major factor in BT Sport's high-quality 4K is the commitment to distributing 4K over IP to the home. That allows the network to have the compression rates it desires to give the maximum picture quality to viewers. BT Sport's ability to become the standard-bearer in live 4K production? That's simply getting reps for its production and operations crews. The network has produced more than 100 soccer matches live in 4K, with 40 of them done in the network's new single-truck format (BT Sport benefited greatly from serving as a host broadcaster on a pair of major field-hockey tournaments this past summer).
Says Hindhaugh: "It's a combination of having camera operators that are experienced in capturing 4K, directors experienced in how to shoot in 4K and maintain HD standards for a world feed, the crews and the trucks being comfortable with how 4K is monitored, configured, and routed."
BT Sport should continue to build on its 4K/UHD prowess. The network has ramped up to have access to more 4K/UHD hybrid trucks and will be providing live 4K coverage of every Premier League match it covers, all Champions League matches where an English club is the home team, every Aviva Premiership rugby game, every National League Football match, every Women's Super League match, and one Europa League match per round. BT Sport is also home to one of the industry's first regular studio shows in 4K, Rugby Tonight.