SIS LIVE delivers onboard coverage from dramatic America's Cup finale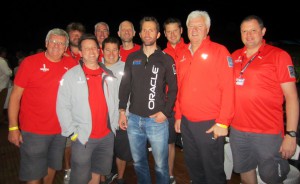 Sir Ben Ainslie led ORACLE Team USA to a remarkable victory during the finale of the 2013 America's Cup on 25 September, beating rival Emirates Team New Zealand by nine races to eight across the series. Continuing its long-running involvement with the event, SIS LIVE again facilitated a host of onboard coverage.
Throughout the competition the SIS LIVE special cameras team worked closely with the yacht designers and racing teams to ensure that the onboard broadcast technology was as lightweight as possible and unobtrusively rigged to prevent any disruption to the onboard activities.
Paul McNeil, head of the on-site SIS LIVE special cameras team, says: "I am immensely proud of the whole team on site and all the engineering effort that happened at base to get us to this ground breaking coverage."
Onboard coverage from each AC72 came from six agile and 1 fixed camera systems controlled bytwo2 operators, with four live feeds available to the director at any one time and switching used to select the four active sources. The director also had the option of seeing two quad split screens on his production stack. Sixteen channels of sound were captured from each yacht, including from SIS LIVE's in-house designed 5.0 surround sound microphone, deck FX mics, radio mics on each of the crew members ,and two hull mics rigged inside the hull to capture the creaks and groans of the boats. SIS LIVE also handled the transmission and reception of all remote camera sources using its innovative RF over IP system and spectrum management expertise.
David Meynell, managing director, SIS LIVE, comments: "I count myself as one of those who has been completely converted to live sailing, as I have been hooked over the last few days by the incredible excitement of the America's Cup. The ingenuity of the SIS LIVE team has enabled some of the most daring and innovative coverage ever broadcast and contributed to one of the greatest sporting spectacles and comebacks in history. What is clear to me and, I believe, the entire global audience, is that this significant surge in interest has been driven by the accessibility and unbelievable quality of the coverage provided by SIS LIVE, which I am immensely proud of."
Denis Harvey, production executive of ACEA, says: "Three years ago we set out to revolutionize the TV coverage of 34th America's Cup and, in doing so, introduce it to a new world of fans. Sailing is not only a challenging discipline, but also a challenging sport to broadcast as it takes place on a moving playing field, is in a harsh marine environment and all the camera and audio sources have to be delivered via RF. Over the last three years the SIS LIVE special cameras and RF teams have pioneered and evolved technologies and techniques used to create and deliver on-board coverage which draws the viewer into the heart of the action. Their imagination and technical ingenuity have helped us realize our ambitions and have set the benchmark for on-board coverage of future sailing events."