SIS LIVE, Sky collaborate on 4K uplink tests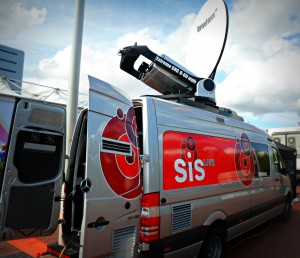 Satellite connectivity expert SIS LIVE has been working with Sky to explore and develop the technology used to transmit ultra HD (4K) video via satellite. The project kicked off on 22 August with Ultra HD transmissions from High Wycombe to Sky's Osterley base.
The uplink unit assigned by SIS LIVE to the project, SIS 67, features the innovative 1.8m DriveForce vehicle mounted antenna which was designed and manufactured by SIS LIVE's in-house engineering team. Aside from four 4K encoders fitted especially for this project, all other equipment was already installed in the vehicle.
The tests successfully illuminated 72MHz of satellite space transmitting at 70dBW on Ku Band via the Eutelsat 3D satellite 4 carriers were multiplexed into 1 transport stream and transmitted at 140MB of data per second.
The signal was downlinked at Sky's facility at Osterley where it was viewed live on an ultra HD screen and recorded onto servers. The same technical configuration was then recreated at the Premiership Games between Cardiff City and Manchester City on 25 August and at West Ham versus Stoke City on 31 August, in the process proving that live 4K content can be effectively transmitted and received.
Keith Lane, director of operations for Sky Sports, says: "Having worked with SIS for many years we knew that they were best placed to manage the delivery of the UHD trials. Once they knew the brief everything was put in place from organising the segment space to delivery of the signal back to Sky. Our relationships with our suppliers are key to our success and the collaborative approach from SIS was exactly the reason for choosing them."
David Meynell, managing director of SIS LIVE, adds: "We have a great relationship with Sky Sports and I am delighted that we were selected to provide these 4K satellite services. The trials were a complete success proving the technical excellence of the SIS LIVE uplink systems and of our dedicated staff. We are at the forefront of satellite technology, not only providing cutting edge services but also designing and building the equipment that delivers such excellence. We are looking forward to continuing our close relationship with Sky and excited about the future of 4K TV for the British public."