Sixty's Henriette Saether discusses new collaboration with STATS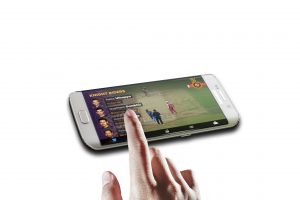 Interactive TV company Sixty recently announced that it has partnered with STATS, a sports data and intelligence company, to enable its broadcasting customers to use STATS' sports data and analytics through Sixty's interactive TV solution, Ease Live.
The partnership will see Sixty's on-screen clickable graphics technology combine with STATS' sports data and content services to allow broadcasters to deliver engaging, interactive sports video experiences, ensuring sports fans have access to the most immersive sports viewing experiences available.
Henriettes Saether, chief commercial officer at Sixty, tells SVG Europe: "Sixty has together with Stats looked in to the different data streams and APIs of STATS. Their unique library of data can easily be displayed as interactive on air graphics and overlays trough the Ease Live Interactive platform. A pre-verification enables shorter time to market for data integrations."
With STATS' global presence, headquartered in the US market, the partnership will enable sports broadcasters to leverage the power of interactive TV technology with a broad sports database to provide greater value and more engaging viewing for sports fans.
On where Sixty expects to see the greatest growth, Saether states: "Never has there been more data collected from sports events and players in the field. With such enormous pools of knowledge it's a shame to hide it away. Enabling the users to dive in to the pool of information that previously has been stored on the broadcasters servers available for the producers to tell a story, can now be available for any end-user so they can influence their own storytelling. That is quite powerful.
"In a way Ease Live enables powerful synchronisation of the storytelling from the broadcasters and the capacity of the internet to make a whole new way of centralising the user experience and strengthen the sports brand," she continued. "In our industry, we believe great growth will apply to those who are able to utilise the major libraries of data in a clever way."
As to how she regards the more general state of play for the incorporation of data and analytics into live sports, Saether comments: "We believe any sport in the future is expected to deliver more content to the end users, and to be able do so in an interesting and intriguing way, they need to be able to take the driver's seat of their own experience. Ease Live in combination with highly powerful statistics integrations will enable that."
"Combining Sixty's interactive video technology with our established experience in collecting, collating and editorialising a wide range of live sports data, we now have the best tools to continue to revolutionise the way broadcasters deliver sports video experiences," said Richard Henderson, chief revenue officer at STATS. "We look forward to working with Sixty and its Ease Live solution to provide passionate sports fans, both in the US and around the world, with immersive data-driven sports viewing experiences."
Ease Live is a flexible solution that unifies the linear and online TV experience with a consistent brand and design, providing on-screen graphics that come to life in the hands of the audience by making them 'viewer clickable' across all devices, stated Sixty. The product can be used by any broadcast system or online video platform and integrates seamlessly into current workflows.